East College Road Resurfacing
Northern Region ADA Improvements – Fairbanks: College Road
and
The Alaska Department of Transportation and Public Facilities (DOT&PF), in cooperation with the Alaska Division of the Federal Highway Administration (FHWA) proposes to resurface College Road between the Margaret/Antionette and Old Steese Highway intersections and the interchange ramps at the Johansen Expressway located in Fairbanks Alaska.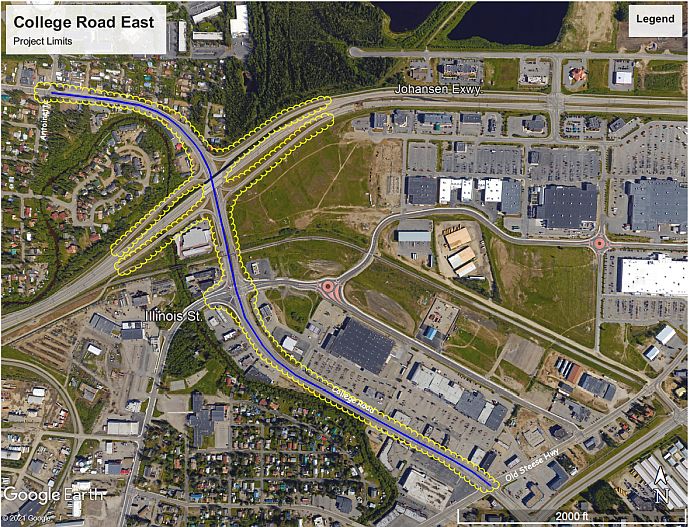 Project area.
The purpose of these projects is to extend College Road's service life and to allow for improved pedestrian mobility by bringing the adjacent pedestrian facilities in compliance with the Americans with Disabilities Act (ADA).
These projects are needed because the existing pavement is deteriorating and is in need of replacement. Additional project improvements include removing and replacing non-compliant ADA ramps, crosswalks, sections of sidewalk, regrading selected driveway tie-ins, replacing segments of curb and gutter that have settled or been damaged by snow removal equipment, replacing old or non-standard roadway signage, replacing pavement markings, and replacing an existing traffic counter/classification station in front of Costco.
Anticipated construction impacts
Construction activities are scheduled to begin in the summer of 2023 and last through the end of October 2023.
Majority of construction is expected to take place at night.
Expect lane reduction from the existing 2-lane to one-lane during daytime hours.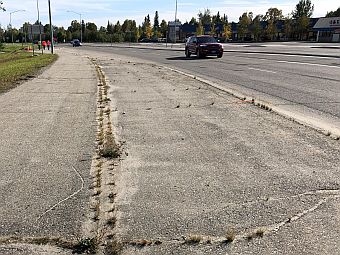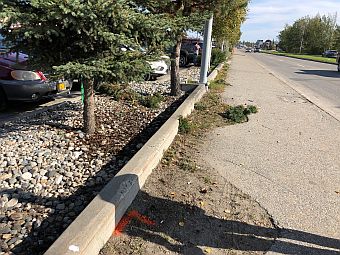 Examples of current conditions.