Project No. CFHWY00554/0001655
AMATS: Ocean Dock Road Reconnaissance Engineering Study
Welcome
Welcome to the website for the AMATS: Ocean Dock Road Reconnaissance Engineering Study project! Please refer to this site for updates, documents, announcements, and to make comments or suggestions.
Project Overview
The Alaska Department of Transportation and Public Facilities (DOT&PF), in cooperation with Anchorage Metropolitan Area Transportation Solutions (AMATS) and the Federal Highway Administration (FHWA), is preparing a reconnaissance engineering study on Ocean Dock Road from Whitney Road to Roger Graves Road.
The purpose of the study is to:
Identify existing concerns for all users within the study area, including freight, recreational, tourist, commuter, and non-motorized users
Identify opportunities for improvement, including reducing the number or impact of rail-road at-grade crossings.
The intersection of Ocean Dock Road at the C Street ramps was previously studied in 2018 (AMATS: C Street/Ocean Dock Road Access Ramps Reconnaissance Engineering Study). This current study looks at a larger area of the Ocean Dock Road corridor from Whitney Road to Roger Graves Road within the Port of Alaska (POA).
The study process will gather stakeholder concerns, perform engineering analysis, identify a range of qualitative conceptual options, and combine the most promising options to present feasible alternatives that meet the purpose and need. Considered options will improve the safety for all user types, increase freight mobility, and reduce maintenance of the corridor.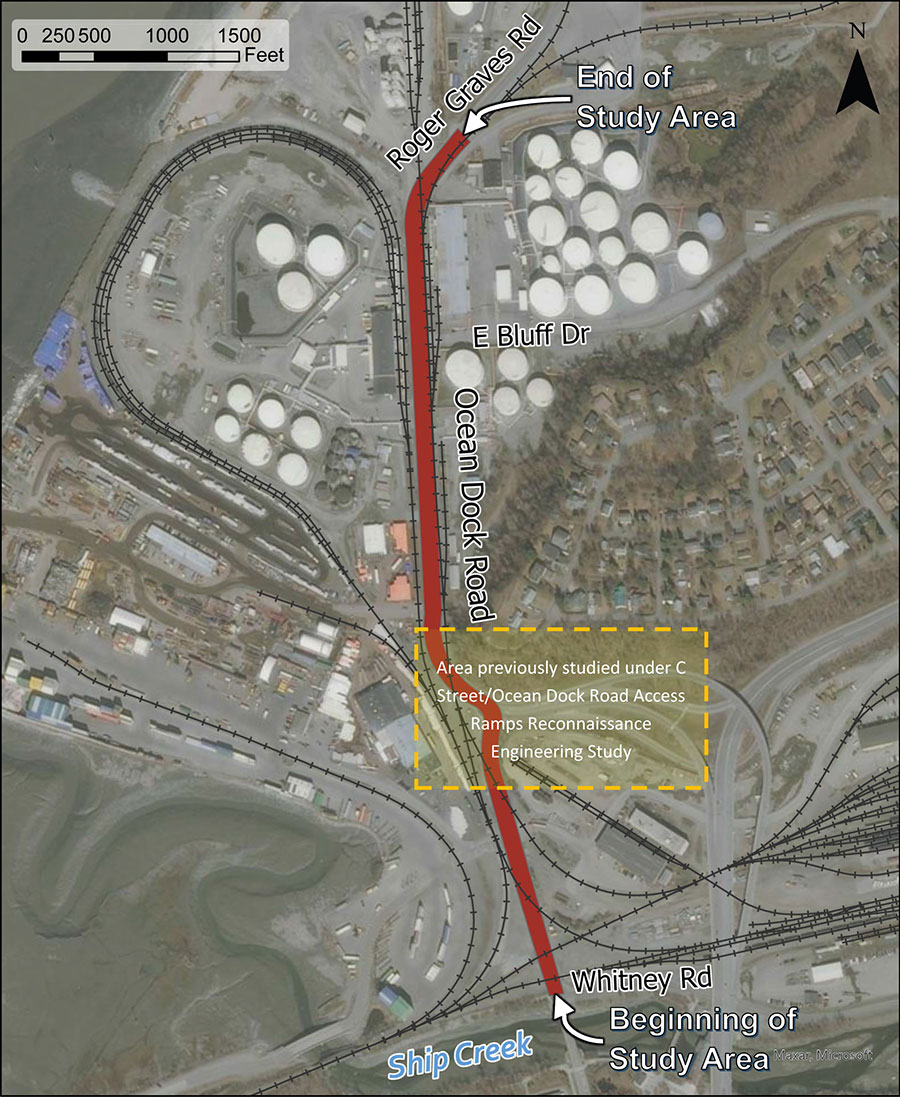 Status
The study kicked off in the fall of 2021. The first task included gathering concerns from users of the study area. (This map shows their comments). The project team conducted a site visit with applicable agencies and stakeholders. Additionally, business tenants of the study area were consulted. During this time, the team also presented to AMATS committees.
From the information gathered, the team generated conceptual options and submitted the Concept Report in March 2022. Based on feedback received, the team analyzed and developed feasible alternatives, which are presented in the Draft Reconnaissance Engineering Report.