2014 Richardson Highway Avalanche
On Friday, Jan. 24, at approximately 6:30 a.m., multiple avalanches crossed the Richardson Highway in the Thompson Pass region. ADOT&PF closed the highway from milepost 12-64 through the weekend (1/25-26). The avalanches occurred naturally after the department made several attempts to mitigate avalanche risk up to 10 days prior to the closure.
In the following days, ADOT&PF maintenance crews successfully brought down additional slides during the closure and stabilized some sections of the highway. However, debris from two slides at "Snow Slide Path" dammed the Lowe River, flooding the north side of Keystone Canyon and preventing crews from clearing the highway. The flooded area at the greatest point was approximately 2,500 feet in length. On Friday, January 31, flood waters receded within the banks of the Lowe River and crews were able to begin clearing avalanche debris. It took five days to clear the estimated 200,000 cubic yards of snow, ice, and debris. The highway reopened on Wednesday, Feb. 5 after the department determined that the avalanche hazard was reduced and the roadway was stable and could safely support commercial and passenger vehicles.
During the closure ADOT&PF rerouted ferry service to Valdez in an effort to accommodate the City of Valdez residents and businesses.
Updates, Photos, and Videos

January 29, 2014 - Click here to listen to ADOT&PF Northern Region maintenance engineer, Jason Salalaskas discuss the Keystone Canyon avalanche on Richardson Highway on KCHU radio
Map of Avalanche Area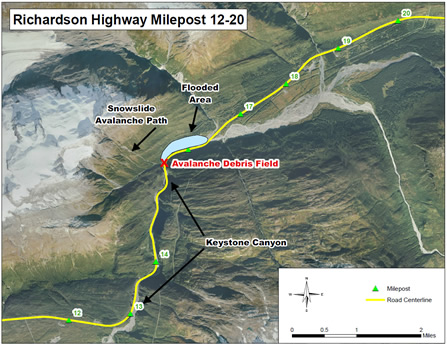 Press Releases