Klondike Highway Rehab: Skagway River Bridge to Canadian Border
Project: SFHWY00225/0972019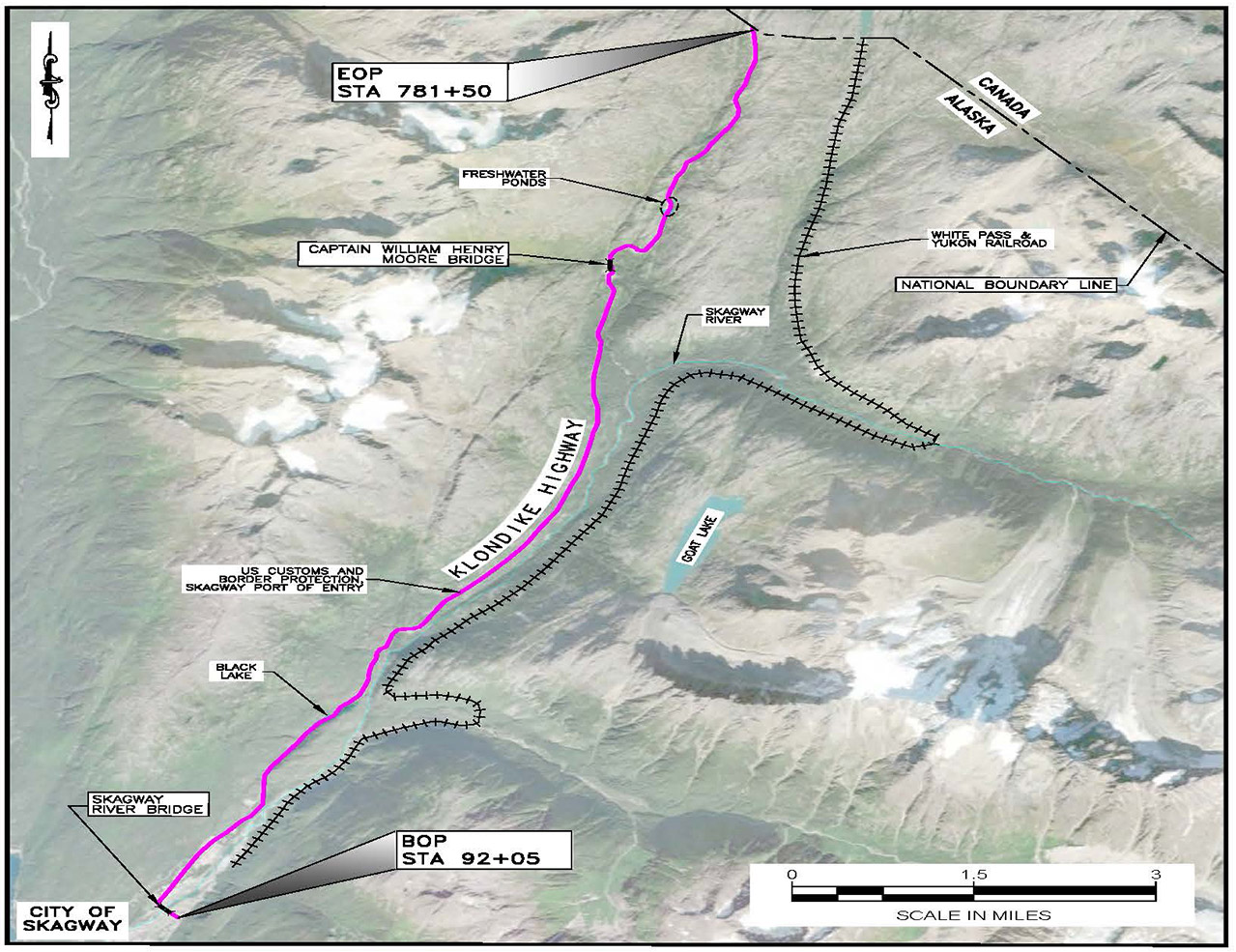 Purpose and Need
Purpose
The Klondike Highway is the primary transportation link between Southeast Alaska and Canada. The purpose of this project is to improve the condition of the highway by implementing the following:
Address pavement deficiencies between MP 0.0 and MP 13.1
Construct embankment and repair slopes
Replace guardrail
Improve existing drainage
Replace existing signage
Need
The project's needs are identified as follows:
The composite roadway pavement condition for the corridor, based on current FHWA standards, is rated as 'Poor' with a recommended treatment of rehabilitation.
Numerous unstable slopes and deficient embankments along the corridor result in repeated Maintenance and Operations (M&O) expenditures and impacts to users.
Culverts are failing and have reached the end of their service life. Back slope sloughing and erosion at culvert inlets and outlets will also be addressed to promote positive drainage.
Guardrail in the project corridor is damaged or is out of compliance with current standards and requires replacement.
Signs lack reflectivity and do not meet current standards or are missing.
Project Description
Project activities may include:
paving
potential minor alignments
pavement rehabilitation
avalanche mitigation
drainage improvements, including culvert improvements
bridge improvements
adding/replacing guardrail and guardrail end treatments, lighting , snow poles, striping, and signs
adding retaining walls
Construction of the first 3-mile segment is anticipated to occur starting in 2025. The entire corridor will be divided into segments with multiple construction projects occurring in the following years.
The environmental review, consultation, and other actions required by applicable Federal environmental laws for this project are being, or have been, carried out by DOT&PF pursuant to 23 U.S.C. 327 and a Memorandum of Understanding dated April 13, 2023, and executed by FHWA and DOT&PF.