Edgerton Highway Lakina River Bridge Replacement

Project No. BR-0850(26)/63905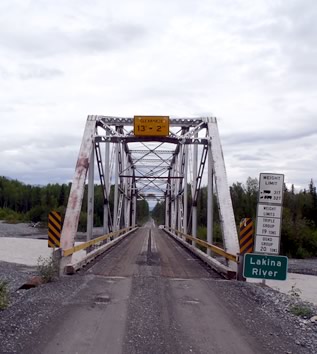 The Alaska Department of Transportation and Public Facilities (ADOT& PF) in cooperation with the Federal Highway Administration (FHWA) is proposing to replace the bridge over the Lakina River at MP 44 McCarthy Road.
The proposed project includes the following elements:
Replace the Lakina River Bridge:

The new bridge's proposed width is 24'---allowing two lanes of traffic to pass. The existing bridge's width is 13' and functions as a one-lane bridge.
The new bridge will be a concrete-bulb tee girder structure (see example photo in our "FAQ"). The new bridge will not have an overhead truss which will eliminate the vertical clearance restrictions (13'2") of the existing bridge.
Lengthen the bridge and construct spill-through bridge abutment structures to provide more hydraulic capacity at the river crossing.
The new bridge will be stronger than the old truss bridge in order to remove the existing load restrictions.

Roadway improvements to accommodate the new bridge include minor widening and grade raises.
Roadway embankment protection and channel improvements as necessary to protect the road and new bridge and reduce maintenance efforts.
ADOT&PF completed public involvement in August 2012. A summary of comments received can be
viewed here

. We are in the process of detailed design, environmental permitting and right-of-way acquisition. We anticipate construction to begin in 2015-Please keep checking our website for updates!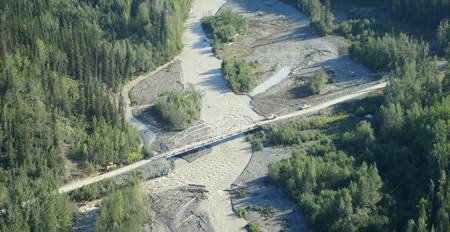 If you have any questions or comments
about the project, please contact:

Sarah Schacher, P.E.
ADOT&PF Project Manager
Northern Region DOT&PF
2301 Peger Rd Fairbanks, AK 99709-5316


(907) 451-5361


sarah.schacher@alaska.gov
To correspond by text telephone
(TDD) (907) 451-2363