Gillam Way Reconstruction

Project No. Z637840000 / 0655012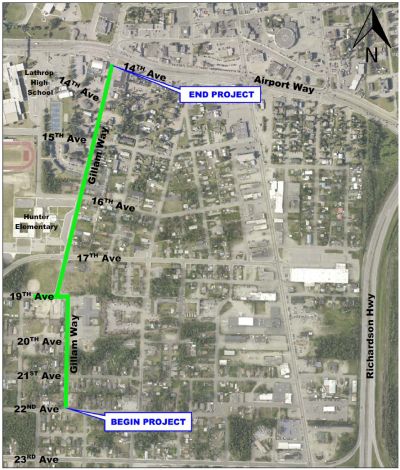 The Alaska Department of Transportation & Public Facilities (DOT&PF) and contractor Exclusive Paving are in the second year of construction on Gillam Way. This project is reconstructing Gillam Way in Fairbanks, Alaska between 22nd Avenue and Airport Way. This project was nominated for the FAST Planning (formerly FMATS) Transportation Improvement Program (TIP) through the combined efforts of the City of Fairbanks, FAST Planning, and DOT&PF.
Project Purpose
Improve safety and reduce maintenance costs on Gillam Way.
Project Scope
Reconstruction of Gillam Way between 22nd Avenue and Airport Way includes:
Repaving
Intersection Improvements
Improving existing and constructing new Americans with Disabilities Act (ADA) sidewalks throughout the project limits
Shoulders for shared use bicycle facilities on both sides of Gillam Way
Traffic calming features
Updated signing and striping
Drainage improvements
Improvements to water and sewer between 19th Avenue and 14th Avenue
More information about the design can be viewed in the links provided in the side bar.
What's happening in 2020?
The majority of the work for this project was completed in 2019. We cannot thank the residents and businesses along and around Gillam Way for their patience during this disruptive work. Although some work this year will require disruptions to traffic patterns and access, we expect the impacts to be far fewer than the summer of 2019.
The work remaining in 2020 includes permanent striping, the construction of two traffic circles (one at 19th and the other at 20th) and some sidewalk repair. This work will involve some closures for through-traffic, delays during striping while paint dries, and pedestrian detours around sidewalk repairs.
For updated traffic information throughout the season, please visit AlaskaNavigator.org. For more information about the 2020 construction season throughout Fairbanks and the rest of Northern Region, including how the department is responding to COVID-19, please visit our Northern Region 2020 Construction website.