Edgerton Highway MP 24-29 Resurfacing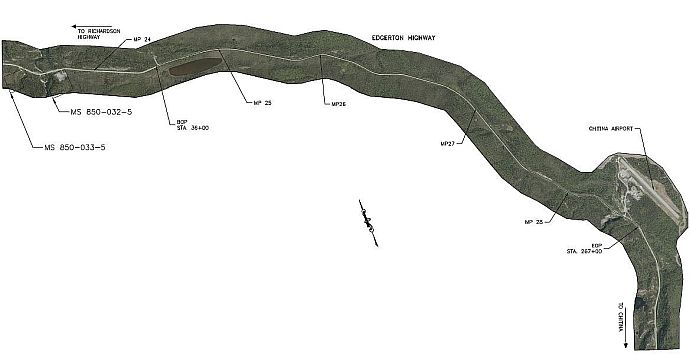 Project area.
We are working to resurface the Edgerton Highway between MP 24 and MP 29.
The purpose of this Preventive Maintenance project is to improve safety and extend the highway service life.
The existing pavement within the MP 24-29 has areas of localized settlement that requires a high frequency of patching by DOT&PF's maintenance forces. This project will mill, regrade, and repave the roadway to alleviate DOT&PF's maintenance. In addition to resurfacing, this project includes replacement of existing signs, drainage improvements, new pavement markings and guardrail replacement.
Work on this project includes:
Resurfacing
Vegetation clearing
Replace signs
Replace guardrails and update end terminals
Reapplication of pavement markings
Resurface approaches
Our project staff is currently working on transitioning from design to construction.
This project is being constructed in cooperation with the Alaska Division of the Federal Highway Administration/Federal Aviation Administration.