Project Numbers: Anchorage: CFHWY00564/0001665 South: CFHWY00938/0001745 North: CFHWY00939/0001746
HSIP: Central Region Guardrail Inventory and Upgrade
Project Overview
---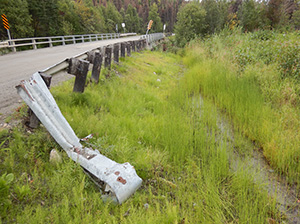 The Alaska Department of Transportation and Public Facilities (DOT&PF), Central Region, under the Highway Safety Improvement Program (HSIP), prepared an inventory of guardrail segments, end terminals, and associated hardware along highspeed (50 mph or greater) routes in Central Region for damage and adherence to current DOT&PF and Federal Highway Administration (FHWA) standards. The inventory results were used to design replacements or upgrades to guardrail segments found to be in non-conformance with current State and Federal standards.
Current Status
---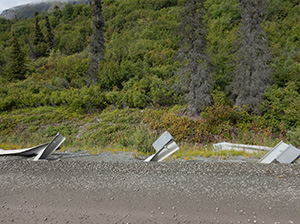 Crews inspected approximately one million linear feet of guardrail and 2,200 end terminals in the Central Region during 2020 spring and summer. Findings indicated roughly half of these systems qualify for upgrades. Environmentally sensitive areas, including the location of wetlands and bald eagle nests, were also identified as a part of 2020 field work. In 2021, the project team completed plans and bid-ready engineering construction documents. Construction is planned to start in 2023.
Schedule
---

Project Plan Sets
---
Due to the vast area Central Region covers, the plans were divided into three regional plan sets:
Bogard Road
Fairview Loop Road
Glenn Highway (MPT 30-110)
Knik Goose Bay Road
Old Glenn Highway
Palmer-Fishhook Road
Parks Highway
East Seldon Extension
Talkeetna Spur Road
Trunk Road
Willow-Fishhook Road
C Street
International Airport Road
Glenn Highway (MPT 0-30)
Portage Glacier Road
Knik River Road
Seward Highway (MPT 92 - 105)
Bridge Access Road (Kenai)
Holt-Lamplight Road (Nikiski)
Hope Road
Kalifornsky Beach Road
Kenai Spur Highway
Nash Road
Seward Highway (MPT 0-76)
Sterling Highway
Public Meetings & Materials
---
Project Documents
---
Send us your comments, questions or concerns:
Chris Bentz, PE
DOT&PF Project Manager
Joe Taylor, PE
Lounsbury & Associates Manager
Morgan McCammon
DOWL Public Involvment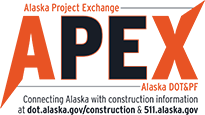 Use DOT&PF's Alaska Project Exchange tools to learn more about all of DOT&PF's active construction projects statewide!
Want to know how construction will impact road traffic? Visit 511.alaska.gov
Want to dig into the details about projects across the state? Visit dot.alaska.gov/construction