Kenai Spur Highway MP 29-38 Pavement Preservation
State/Federal Project No: CFHWY00852/0490017
Project Overview
Alaska DOT&PF in partnership with the Federal Highway Administration are proposing to resurface the Kenai Spur Highway between mileposts 29 and 38. Repaving will help preserve the roadbed and make it last longer. It will also make for a smoother drive. This project will include limited additional improvements like culvert replacements and vegetation clearing.
Project Background
This segment of the Kenai Spur Highway has not seen any major upgrades since it was first constructed in the 1960s. It connects the cities of Kenai and Nikiski with the Captain Cook State Park and adjacent Kenai National Wildlife Refuge. Commercial uses include Upper District Cook Inlet salmon setnetters and pipeline contractors who service gas wells and a large diameter natural gas pipeline in the area.
The recent Phase I extension of the Kenai Spur Highway, by the Kenai Peninsula Borough, north along the old pipeline cut has generated an increase in traffic associated with recreational cabin users in the area. A gas well closure program has also generated an increase in heavy haul truck traffic. The planned Phase II extension of the Kenai Spur Highway may further increase the traffic volumes on this segment of the highway.
What's Happening Now
Topographic field survey and design investigations and analysis are beginning this fall.
Project Purpose and Need
The purpose of the project is to preserve and extend the service life of the facility.
Proposed work may include:
Resurfacing
Dig-outs
Minor bridge repairs and safety improvements
Drainage improvements (culverts, ditching)
Roadside hardware
Utility relocations
Signing and striping
Vegetation clearing
Schedule
Construction is anticipated to begin in 2026 but is dependent on the availability of funding.

If you have a question or comment for the project team, contact us using the information below.
Alaska Department of Transportation and Public Facilities
Aaron Hunting, P.E.
Project Manager
Email: aaron.hunting@alaska.gov
Phone: 907-269-0546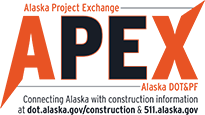 Use DOT&PF's Alaska Project Exchange tools to learn more about all of DOT&PF's active construction projects statewide!
Want to know how construction will impact road traffic? Visit 511.alaska.gov
Want to dig into the details about projects across the state? Visit dot.alaska.gov/construction