FOR IMMEDIATE RELEASE: June 26, 2023
Press Release: 23-0021
MV Hubbard is Christened by First Lady Rose Dunleavy
The ceremony celebrated the ship's first season in service to Alaskans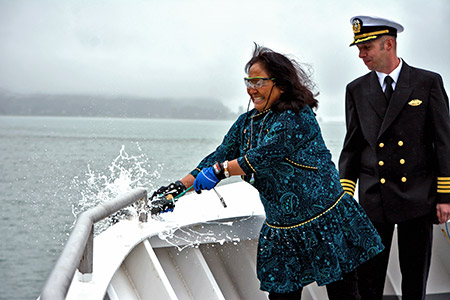 First Lady Rose Dunleavy christens MV Hubbard with Ethan Waldvogel, Hubbard Relief Captain. Photo by Dawn Millen, AMHS.
(JUNEAU, Alaska) - First Lady Rose Dunleavy smashed a ceremonial bottle of champagne on the bow of the MV Hubbard today, christening the ship as it enters its first season in service.
During her remarks, First Lady Dunleavy noted the important role women have played in the history of the Marine Highway. "I am honored to be part of AMHS history," said First Lady Dunleavy. "Women have made a tremendous contribution to transportation in Alaska, and today I want to recognize their contributions to the Marine Highway. Today, they are masters and mates, ship side and shore side, helping this great state getting to where they need to go."
First Lady recognized several AMHS women for their outstanding contribution to the Marine Highway, including Port Captains Mara Cowen and Umeko Seaver, Vessel Scheduler Kerri Traudt, AMHS Admin Mngr. Barb Henry, and Passenger Services Specialist May Flood.
The M/V Hubbard, one of two Alaska Class Ferries, entered service for the first time this May after having crew quarters constructed in the Ketchikan Vigor shipyard last year. The addition of crew quarters enables AMHS to schedule the ship for longer voyages, reaching more ports and thereby increasing system-wide flexibility and the needed redundancy. The MV Hubbard is sailing between Juneau, Haines, and Skagway six times a week this summer.
The Alaska Department of Transportation & Public Facilities continues its work to revitalize the Alaska Marine Highway by investing in vessels and shoreside infrastructure, addressing recruitment and retention issues, and strengthening communications with marine highway communities. For more information on this work, check https://dot.alaska.gov/chartingthecourse/.
The Alaska Department of Transportation and Public Facilities oversees 237 airports, 9 ferries serving 35 communities along 3,500 marine miles, over 5,600 miles of highway and 839 public facilities throughout the state of Alaska. The mission of the department is to "Keep Alaska Moving through service and infrastructure."
# # #