Iliamna Airport Firefighting Testing Area Contamination
Page updated 05/17/2022 Go back to PFAS Home Page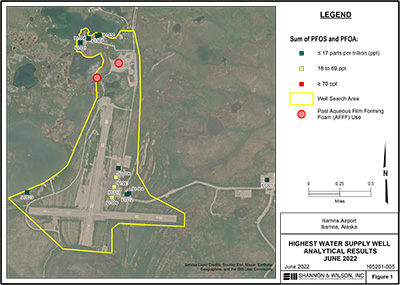 Community Outreach
Background
The Alaska Department of Transportation and Public Facilities (DOT&PF) was recently alerted to concentrations of per- and polyfluoroalkyl substances (PFAS) within quarterly and annual monitoring ranges, but below the Environmental Protection Agency's (EPA) Lifetime Healthy Advisory (LHA) level at the Iliamna Airport. The Alaska Department of Environmental Conservation (DEC) began initial sampling of water supply wells near airport property in June 2020. DEC sampled nine wells on or near airport property. Of those samples, three wells did not detect PFAS and six wells had concentrations below the EPA's LHA level of 70 parts per trillion (ppt) for the sum of perfluorooctane sulfonate (PFOS) and perfluorooctanoic acid (PFOA).
DOT&PF has contracted with third-party independent contractor, Shannon & Wilson, Inc. to continue DEC's preliminary investigation, which will include an in-depth well search and sampling event to ensure all water supply wells near the airport are sampled.
PFAS are commonly used in products for fire suppression, resistance to wear, and repelling oil, stains, grease, and water. PFAS can be found in apparel, some consumer products, and aqueous film forming foams (AFFF) used in firefighting. The use of AFFF during firefighting equipment testing and emergency responses at the Iliamna Airport is the presumed source of PFAS contamination in the affected wells. PFAS are considered emerging contaminants and the health effects are not yet well characterized.
Shannon & Wilson field staff were in Iliamna from Nov. 3, 2020 through Nov. 6, 2020. Field staff collected 10 samples, two of which were new samples not previously taken by DEC's initial sampling event. Results from this sampling event indicated similar results as the DEC sampling event in June 2020.
In June 2021 Shannon & Wilson samplers conducted an annual monitoring event. One new sample was collected and two wells were sampled that previous results fell within the annual monitoring criteria. This criteria are any wells that sample over 17 ppt but below 35 ppt. Samples results indicated similar results as previous events. At this time, there are no wells in Iliamna that exceed action levels requiring an alternate water source.
Annual monitoring events will tentatively take place in June in order to capture those who may live in Iliamna seasonally. Those who participated in the sampling event have received a copy of their results at the mailing or email address they provided.
All drinking water samples results are publicly available at this DEC website .
If you have questions regarding sample results please email airportwater@alaska.gov.
Drinking Water
At this time the wells surrounding the airport are still under investigation. Should sample results indicate levels above the EPA's LHA level an alternate drinking water source will be provided.
Contacts
For more information, please contact us.
For questions about testing & study:
Shannon & Wilson, Inc.
Ashley Jaramillo, Project Manager
907-458-3118
amj@shanwil.com
For regulatory questions:
Alaska Department of Environmental Conservation,
Contaminated Site Program
Bill O'Connell, Environmental Program Manager
907-269-3057
bill.oconnell@alaska.gov
Division of Spill Prevention and Response website:
http://dec.alaska.gov/spar/csp/sites.aspx
For questions about PFAS health effects:
Alaska Department of Health & Social Services
Sarah Yoder, Public Health Scientist
907-269-8054
sarah.yoder@alaska.gov
Alaska Department of Health & Social Services
Stacey Cooper, Epidemiology Specialist II
907-269-8016
stacey.cooper@alaska.gov
Alaska Department of Health & Social Services
Andrew Cyr, Toxicologist
907-269-6529
andrew.cyr@alaska.gov
Division of Public Health Website:
dhss.alaska.gov/dph/epi/eph/pages/PFAS.aspx
For claim filing instructions:
Alaska Department of Administration
Division of Risk Management
Ken Simpson, Claims Administrator
PO Box 110218
Juneau, AK 99811-0218
907-465-2183
907-465-3690
ken.simpson@alaska.gov
For questions about Iliamna Airport Firefighting Foam and all other inquiries:
Alaska Department of Transportation and Public Facilities
Statewide Aviation
Sammy Cummings, PFAS Program Manager
907-888-5671
airportwater@alaska.gov