Fairbanks Airport ARFF Training Areas Contamination
Page updated 09/06/2023 Go back to PFAS Home Page
FAI is re-sampling private water-supply wells quarterly based on well use, concentration, and location.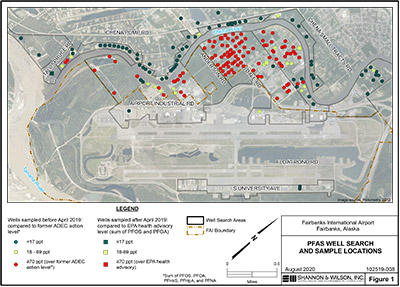 Community Outreach
Background
Fairbanks International Airport (FAI) was alerted in late October 2017 to concentrations of Per- and Polyfluoroalkyl Substances (PFAS) in the groundwater at the Aircraft Rescue and Firefighting (ARFF) Training Areas. The PFAS discovered in the groundwater at the ARFF Training Areas were in concentrations higher than the U.S. Environmental Protection Agency's (EPA's) health advisory levels. FAI is working with an environmental consulting firm, Shannon & Wilson, Inc., and the Alaska Department of Environmental Conservation (DEC) to identify and sample private water wells west of the airport beginning Monday, Nov. 13, 2017. On Aug. 21, 2018, DEC established guidance for the State of Alaska that groups five similar compounds into a combined PFAS action level to be compared to the EPA lifetime health advisory level of 70 parts per trillion (ppt). The EPA lifetime health advisory level included just two compounds, PFOS and PFOA. As of July 22, 2020 FAI has sampled 194 wells with 106 wells above the DEC Action Level.
FAI's priority has been to identify and provide safe drinking water to impacted properties. FAI is providing alternative drinking water to homes with PFAS levels over 65 ppt that haven't been connected to a municipal water source. As of July 2020 , FAI has connected 90 properties to College Utilities, 61 in 2018 and 29 in 2019. An additional nine properties will be connected by the end of the 2020 field season. In addition to service connections, as of summer 2020 FAI has completed the closure of the Fire Training Pit.
In order to track PFAS movement in groundwater, DEC requires continued monitoring of wells. FAI has installed a series of groundwater monitoring wells throughout the impacted area to compile data and track characteristics of the plume. The frequency of this monitoring will be conducted annually and quarterly and in accordance with DEC guidance.
Drinking Water
All known impacted residents and businesses to date have been provided alternate water.
PFAS Fact Sheets
Note: If you have trouble viewing any of the above documents, please contact us for an alternative option.
Related Reports
Contacts
For questions about testing & study:
Shannon & Wilson, Inc.
Ashley Jaramillo, Project Manager
907-479-0600
ashley.jaramillo@shanwil.com
For regulatory questions:
Alaska Department of Environmental Conservations,
Contaminated Site Program
Robert Burgess, Environmental Program Specialist III
907-451-2153
robert.burgess@alaska.gov
Division of Spill Prevention and Response website:
dec.alaska.gov/spar/csp/sites/fairbanks-international-airport-pfas
For questions about PFAS health effects:
Alaska Department of Health & Social Services
Stacey Cooper, Health Assessor
907-269-8016
stacey.cooper@alaska.gov
Division of Public Health Website:
dhss.alaska.gov/dph/epi/eph/pages/PFAS.aspx
For questions about ARFF Training Area and all other inquiries:
Andrew Warner
DOT&PF - Statewide Aviation
907-269-0725
andrew.warner@alaska.gov airportwater@alaska.gov
Angie Spear, Airport Manager
907-474-2529
airportwater@alaska.gov
For claim filing instructions:
Alaska Department of Administration
Division of Risk Management
Ken Simpson, Claims Administrator
PO Box 110218
Juneau, AK 99811-0218
907-465-2183
907-465-3690
ken.simpson@alaska.gov
For water service connections:
Jeremy Langton, FAI Engineering Assistant III
907-474-2509
jeremy.langton@alaska.gov