Ted Stevens Anchorage International Airport PFAS Information
Page updated 09/06/2023 Go to PFAS Home Page
Community Outreach
Background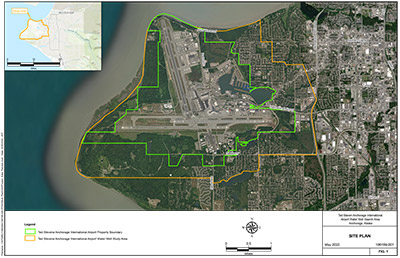 Above: Water Well Sampling Areas Near Ted Stevens Anchorage International Airport (click image for larger view)
The Alaska Department of Transportation and Public Facilities (DOT&PF) is conducting a comprehensive evaluation of Per- and Polyfluoroalkyl Substances (PFAS) contamination at state owned properties or sites that the department is responsible for. Evaluation includes all past and present Part 139 airports and formerly known Department of Defense (DoD) sites. DOT&PF has contracted with third-party environmental consultant, Shannon & Wilson, Inc. to identify and sample potentially impacted communities.
The Ted Stevens Anchorage International Airport (ANC) has conducted sampling on airport property, in support of developmental projects and the department's mission to identify PFAS and mitigate the risk to human health, that confirmed the presence of PFAS. The historical use of aqueous film forming foam (AFFF), a standard firefighting agent that contains PFAS, used in required aircraft rescue and firefighting training and emergency events are suspected sources of PFAS at airports worldwide. ANC is working with Shannon & Wilson, Inc. and the Alaska Department of Environmental Conservation (DEC) to identify water supply wells near ANC.
Well Survey
Property owners or tenants with homes or businesses located within the well search area can reach out to Shannon & Wilson, Inc. at 907-561-2120 with questions related to the survey packet.
PFAS Fact Sheets
Note: If you have trouble viewing any of the above documents, please contact us for an alternative option.
Related Reports
Contacts
For more information, please contact us.
For questions about testing & study:
Shannon & Wilson, Inc.
Dan McMahon, PMP, Vice President
dan.mcmahon@shanwil.com
907-561-2120
For regulatory questions:
Alaska DEC Contaminated Sites Program
Robert Burgess, Environmental Program Specialist
robert.burgess@alaska.gov
907-451-2153
Division of Spill Prevention and Response website:
dec.alaska.gov/spar/csp/sites/fairbanks-international-airport-pfas
For questions about PFAS health effects:
Alaska Department of Health & Social Services
Stacey Cooper, Health Assessor
907-269-8016
stacey.cooper@alaska.gov
Division of Public Health Website:
dhss.alaska.gov/dph/epi/eph/pages/PFAS.aspx
All other inquiries:
Ted Stevens Anchorage International Airport
Megan Peters, Communications Coordinator
907-266-2694
megan.peters@alaska.gov
Andrew Warner
DOT&PF - Statewide Aviation
907-269-0725
andrew.warner@alaska.gov airportwater@alaska.gov