U.S. Bicycle Route System (USBRS)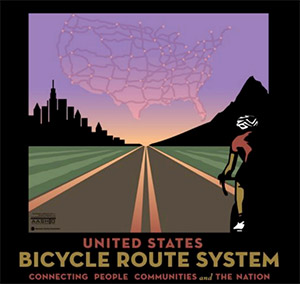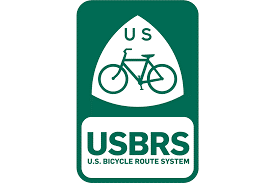 The United States Bicycle Route System (USBRS) was established in 1978 by the American Association of State Highway and Transportation Officials (AASHTO) for the purpose of "facilitating travel between the states over routes which have been identified as being more suitable than others for cycling." The National Corridor Plan for the (USBRS) was established by AASHTO in 2008. The Adventure Cycling Association (ACA) manages the USBRS route-designation process nationally for AASHTO. To date, nearly 19,000 miles of the USBRS have been established in 34 states and Washington DC. The designated USBRS are for experienced long-distance bicycle riders – generally considered "touring cyclists" – who are comfortable riding on most types of facilities, including roads without any special treatments for bicyclists. This group also includes utilitarian and recreational riders who are confident enough to ride on busy roadways and navigate in traffic.
Alaska DOT&PF Designates the Alaska Marine Highway System a USBRS, and connects the state to the continental USA. Alaska's coastal regions are known for abundant wildlife, stunning tidewater glaciers, and lively port communities. For many of these towns, ferries and water taxis are the primary link to the rest of the state and beyond. The ferry offers scheduled service from Bellingham, WA, and Prince Rupert, B.C. to over 35 port communities in the Inside Passage, Prince William Sound, Kenai Peninsula, Kodiak Island, and the Aleutian Islands. USBRS 95, 97, and 87 will now be part of this extensive marine highway system and passengers will be able to enjoy scenic sights such as marine wildlife and explore the Tongass, which is the nation's largest national forest. If you didn't travel with your bike, bicycles are available for rent in many locations, allowing travelers to explore at their own pace while onshore. Since many port communities were established before cars became commonplace, they tend to have compact, pedestrian-friendly downtown areas.
"Alaska DOT&PF is pleased to establish the Alaska Marine Highway System as part of the U.S Bicycle Route System network, connecting Alaska with the Lower 48. Through this designation, Alaska DOT&PF will continue its focus on delivering a safe, multimodal transportation system for everyone. Establishing new routes in our state reaffirms our commitment to do just that."
"The designation of the AHMS into the USBRS network will amongst other things demonstrate the value and need of our marine highway, promote the wonderful Alaskan cultures, nature and wildlife with independent travelers, and through the rapid growth nationwide of bicycle travel and tourism, the USBRS will also serve as an economic generator for our rural communities. We hope that this is the first step in expanding the USBRS network in Alaska."