We created this page to provide information on the different ways people at DOT&PF and business owners can work together throughout our project development process.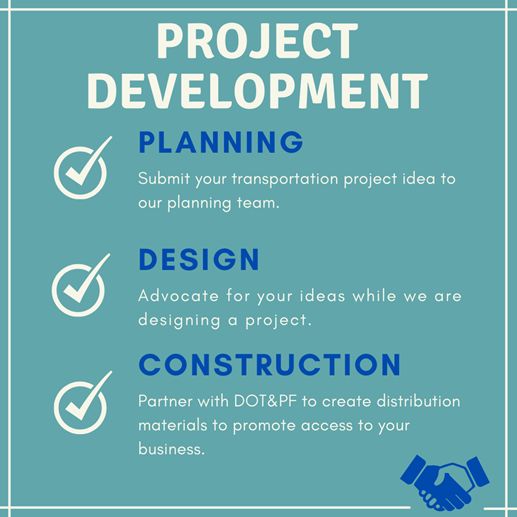 PLANNING
DOT&PF
We start by evaluating our state's infrastructure needs. Out of these needs, we plan projects with the help of stakeholders and the public, we secure funding from our federal partners, and the design process begins.
Be Involved!
The planning phase is the best time for your input! Your suggestions and participation help us identify and prioritize future needs for projects.
Business
Discuss your project ideas and suggestions for transportation improvements with the planning team to see how they can fit into our larger plans and available funding.
DESIGN
DOT&PF
Here are some of the things we do during the design phase of a project:
Gather feedback from stakeholders and community members.*
Evaluate impacts on the environment according to federal and local environmental laws.
Create the detailed design that will be used by the contractor to construct the project and estimate the cost of construction.
* For many types of projects, state and federal law require us to gather feedback from the public during our planning and design process as part of our environmental regulations and local government requirements for projects that are more than basic pavement repairs or resurfacing or depending on how impactful to the public a project may be.
We're Listening!
Your comments have a big impact during design because this is when we can still make changes—not after the project is already in construction.
Business
You can search on our website to find information about the status of specific projects and find the name of the project manager if you would like to speak with someone about the project. This is also a great time to discuss planned construction detours and any other impacts.
Don't know the name of a project or if a project is being planned? Connect with the information office at (907) 451-5307 or dot.ask@alaska.gov
Set an alert for an existing project to be notified about public meetings and open comment periods in the Online Public Notice System.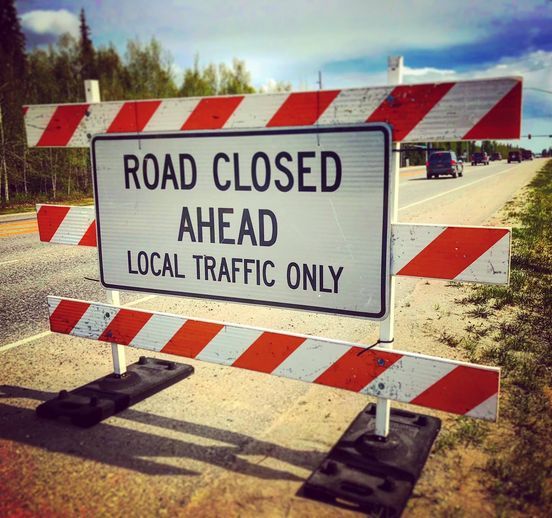 CONSTRUCTION
DOT&PF
We communicate to the community about how to best access the area of construction and are required to maintain access to your business. If you have any questions about a specific project, you can find contact information for DOT&PF project staff on AlaskaNavigator.org.
Signs: Customers will have access to your business during construction and sometimes temporary signage may be installed to direct people to business areas, or alternative business access points. We must follow specific guidance for what we put on the signs and where we put the signs. In most circumstances, a specific business name is not permitted to go on road construction signs. 
Detours: When determining the need for a detour and detour routes, our project development teams consider how the detour will interact with other projects, expected travel times, and more. We also work to try and complete projects within one construction season.  This might mean a greater level of impact over one summer, rather than stretching out impacts to areas and businesses over multiple years. The Alaska Navigator website provides the most up to date detour and traffic impacts for projects, and project staff are available for specific questions or feedback.   
Compensation: DOT&PF does not compensate businesses for lost revenues.  We generally try to complete projects in shorter timelines, rather than multiple construction seasons – to reduce overall or long-term impacts to residents, businesses, and traffic. 
Communication Support: Project updates are communicated through Facebook, Twitter, Instagram, local news, radio, newspaper, weekly construction update emails, and through the Alaska Navigator website and 511 website.
Communication Materials: We use social media, graphics, and maps to communicate about projects. These are available for businesses to use. Below are a few examples of the types of materials we have used in the past.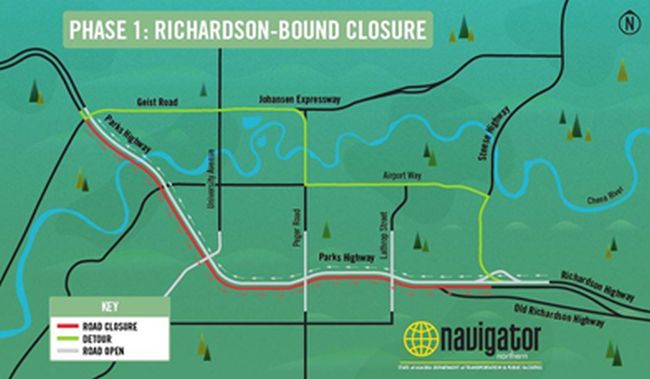 Example of a project map.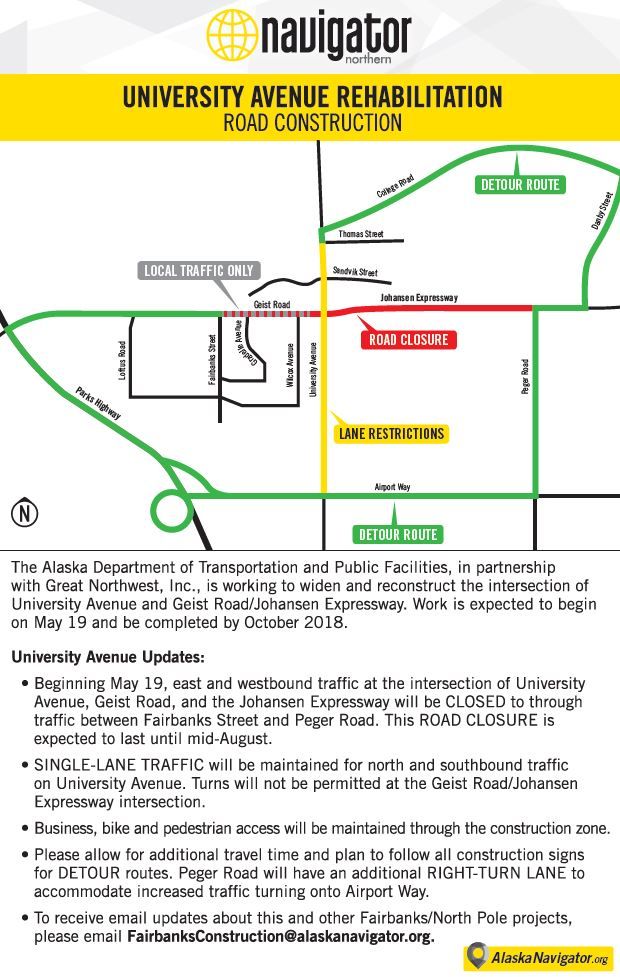 Example of a project flyer.

Example of the front of a print mailer.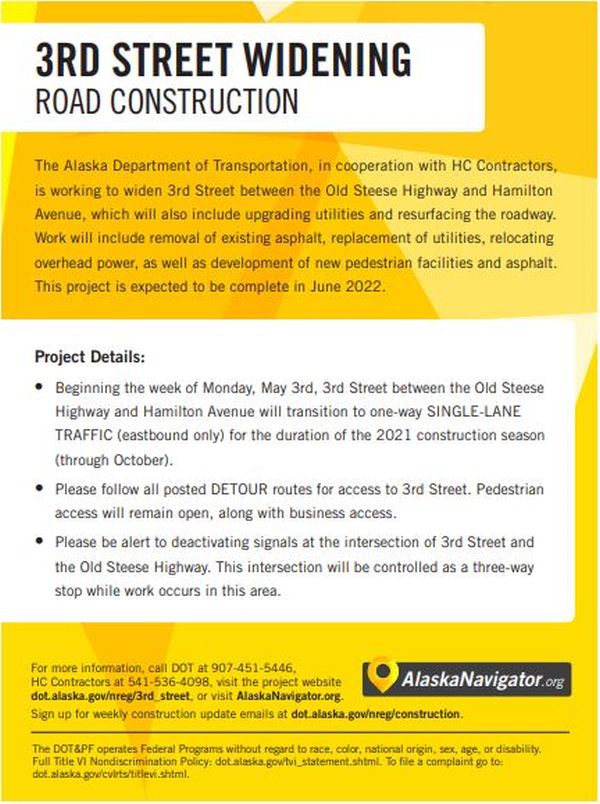 Example of the back of a print mailer.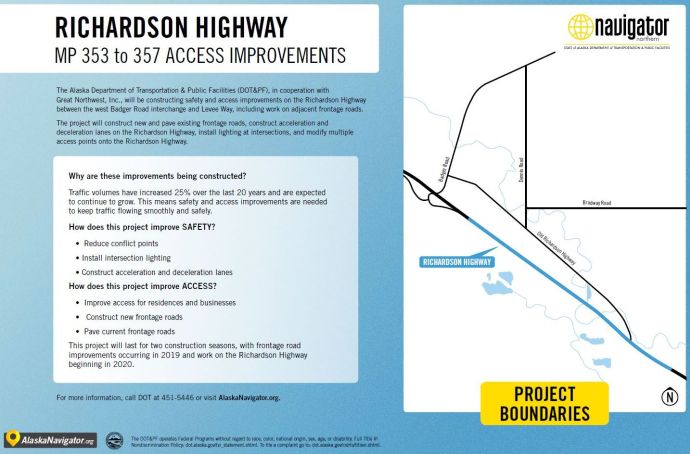 Example of an In-person open house foam board.
Business
Connect with our Design and Construction teams for further discussion about specific projects.
Reach out to project staff for updates on the project and for distribution materials like detour maps, project handouts, final project mock-ups, and direct mailers to distribute on social media or at your business.