FOR IMMEDIATE RELEASE: May 1, 2019
Press Release: 19-0023
AMHS to Hold Open House on M/V Tazlina in Juneau
Open House Scheduled for May 5, 2019
(JUNEAU, Alaska) – In celebration of the Alaska Marine Highway's (AMHS) first Alaska Class ferry revenue voyage and the state's first Made in Alaska ferry, AMHS will hold an open house this weekend on the new Alaska Class Ferry, the M/V Tazlina.
The open house will be held at Juneau's Frank Palmer Auke Bay Ferry Terminal on Sunday, May 5, 2019 from 3 PM to 5 PM. The vessel will be open to the public and will remain docked throughout the event.
The Tazlina is named after the Tazlina Glacier located 43 miles north of Valdez, and was named by Melea Voran who won a vessel-naming essay contest as a 7th grader in the Port Alsworth Tanalian School.
The vessel was designed by Elliott Bay Design Group of Seattle, Washington and constructed at Vigor Shipyard in Ketchikan, Alaska. The Tazlina is the first Alaska Marine Highway ferry built in Alaska, along with its sister ship the M/V Hubbard.
The Tazlina was christened in Ketchikan on August 11, 2018 and is scheduled to begin passenger service on May 7, 2019. The Tazlina will operate as a day boat in Lynn Canal between the communities of Juneau, Haines and Skagway.
The Tazlina is 280 feet long, seats up to 300 passengers, and carries 53 standard vehicles. The Tazlina's onboard amenities include observation lounges with comfortable chairs, a covered heated solarium, a cafeteria-style restaurant, a children's play area, and a quiet room.
The Alaska Department of Transportation and Public Facilities oversees 237 airports, 9 ferries serving 35 communities along 3,500 marine miles, over 5,600 miles of highway and 839 public facilities throughout the state of Alaska. The mission of the department is to "Keep Alaska Moving through service and infrastructure."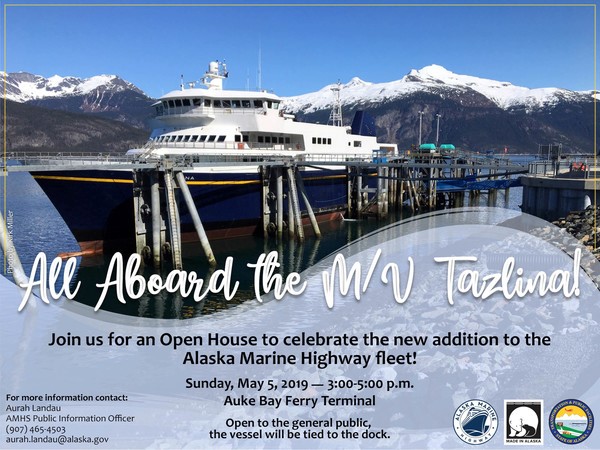 # # #