FOR IMMEDIATE RELEASE: Feb. 22, 2019
Press Release: 19-0009
PUBLIC MEETING NOTICE
DRINKING WATER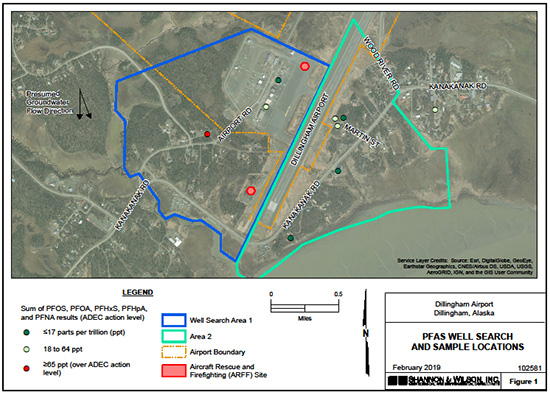 In January 2019, the Department of Transportation & Public Facilities (DOT&PF) was notified of concentrations of Per- and Polyfluoroalkyl Substances (PFAS) in groundwater near the Dillingham Airport.
Firefighters at the Dillingham Airport used aqueous film forming foam (AFFF), a standard firefighting agent that contains PFAS, to extinguish hydrocarbon fires during training exercises and emergency events.
The levels of PFAS in the Holy Rosary Church well exceeded the DEC action level for drinking water. The Holy Rosary Church has discontinued public access to their water well. Community members who used the church well as a drinking-water source may visit the Dillingham Senior Center instead. Nine wells were sampled on or near airport property, the others had concentrations well below the action level of 70 parts per trillion for the sum of five PFAS compounds.
Shannon & Wilson, Inc. will be conducting further testing in the designated sampling areas shown above from Tuesday, February 26 to Friday, March 1. If you have an active well at your home or business, please speak with Shannon & Wilson staff at the upcoming public meeting or call 907-371-9022 to schedule a sampling appointment.
Public Information Meeting
Tuesday, Feb. 26, 2019, 5:30 - 7 p.m., at the Dillingham Elementary School
The Alaska Departments of Transportation & Public Facilities, Environmental Conservation, and Health and Social Services will provide information.
Shannon & Wilson, Inc. will attend to schedule sampling appointments properties in areas shown above.
Please visit www.dot.state.ak.us/airportwater/dillingham or email airportwater@alaska.gov if you have questions ahead of the meeting.
The Alaska Department of Transportation and Public Facilities oversees 237 airports, 9 ferries serving 35 communities along 3,500 marine miles, over 5,600 miles of highway and 839 public facilities throughout the state of Alaska. The mission of the department is to "Keep Alaska Moving through service and infrastructure."
# # #