FOR IMMEDIATE RELEASE: Dec.5, 2018
Press Release: 18-1061
Essential Travel Routes Restored to State Highways
Repair work complicated by aftershocks and ongoing settling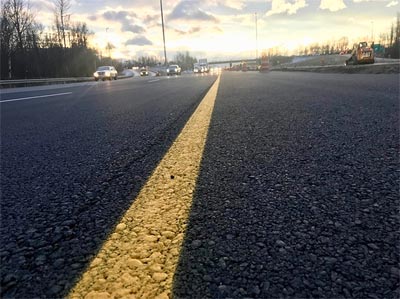 (ANCHORAGE, Alaska) – With the restoration of the Glenn Highway northbound and southbound lanes early this morning, essential travel routes have been restored so normal activities can start to resume. Alaska Department of Transportation & Public Facilities (DOT&PF) Commissioner John MacKinnon has been briefing Gov. Dunleavy on ongoing repair efforts.
"Since Friday's earthquake, DOT&PF employees and Alaska contractors have worked tirelessly to re-establish essential transportation links," said Gov. Dunleavy. "Regardless of the challenges, they have committed to finding solutions in record time."
The Friday 7.0 earthquake struck at 8:29 a.m. and caused property and infrastructure damage. The Glenn Highway Mirror Lake site was particularly difficult to repair because it was a set of two large sink holes that encroached into the northbound and southbound lanes. Subsequent aftershocks expanded the sloughing well into both lanes. DOT&PF is confident that the temporary repairs have been completed will ensure the safety of the traveling public.
Winter construction is particularly difficult, soils are frozen, and paving and painting is challenging. Additionally, these repairs are focused on restoring travel, and are not expected to have a 20 year life cycle, which is what the state expects from typical highway construction.
While the current focus of the repair work is to restore essential travel; the department will pursue permanent repairs next summer. Typical summer construction has longer life cycles, including paint, paving and guardrails. The department will continue identifying damage sites, make repairs and plan for permanent fixes.
"Thanks to the quick response from the president and Federal Highway Administration, we were able to make repairs in record time." Said Commissioner MacKinnon. "We look forward to working with FHWA on more robust restoration of our infrastructure this summer."
The Alaska Department of Transportation and Public Facilities oversees 237 airports, 9 ferries serving 35 communities along 3,500 marine miles, over 5,600 miles of highway and 839 public facilities throughout the state of Alaska. The mission of the department is to "Keep Alaska Moving through service and infrastructure."
# # #