FOR IMMEDIATE RELEASE: Nov. 29, 2018
Press Release: 18-1055
America's Airports Lift Local, Regional, and National Economies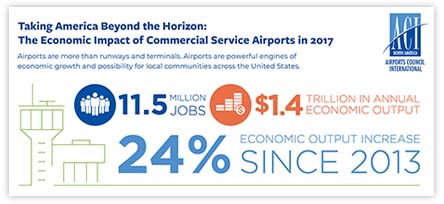 (ANCHORAGE, Alaska) – Airports Council International-North America (ACI-NA) announced findings of its most recent economic impact study, Taking America Beyond the Horizon: The Economic Impact of Commercial Service Airports in 2017. The study summarizes the economic benefits that the 493 commercial airports in the U.S. make to the national economy.
"America's airports are powerful economic engines and this study reaffirms the valuable role airports play in job creation and economic growth in local communities," said ACI-NA President and CEO Kevin M. Burke. "But, airports have significant unmet infrastructure needs that threaten their ability to serve their passengers and support their local communities. With travel only expected to rise in the upcoming years, we must continue our work to provide airports with the tools they need to meet the growing demands of the future with safe, competitive, and modern facilities."
The Economic Impact of Commercial Airports in 2017 analyzes the contribution of U.S. airports made to the nation's economy during the past year, including employment numbers, payroll figures, and output generated. The study found that America's airports have a collective national output of $1.4 trillion, resulting in a contribution of more than 7 percent to the GDP. In addition, airports support a total of 11.5 million jobs and create a total payroll of $428 billion.
In Alaska, the state's 87 commercial airports have a total economic output of $10.7 billion, supporting more than 100,000 jobs with a payroll of $3.4 billion.
In Anchorage, 1 in 10 jobs are tied to Ted Stevens Anchorage International Airport (ANC), for a total of 15,577 jobs. ANC has increased the number of passengers served by nearly 800,000 since ACI-NA conducted their 2013 Economic Impact Study, which is more than a 17 percent increase.
In Fairbanks, 1 in 20 jobs are tied to the Fairbanks International Airport (FAI), for a total of 1,900 jobs. FAI has increased the number of passengers served by approximately 242,000 since the 2013 Economic Impact Study, which is more than a 26 percent increase.
"Passenger and cargo numbers at Alaska's international airports have consistently grown over the past few years," said John Binder, Deputy Commissioner of Aviation for the Alaska Department of Transportation & Public Facilities. "We work hard to grow business while providing exceptional service to our customers."
Since ACI-NA last conducted this study in 2013, the total economic output of America's airports has increased 24 percent. As the economy has recovered from the significant economic downturn experienced in 2007 to 2013, the unemployment rate has decreased and discretionary spending has increased. As such, enplanements nationwide have dramatically improved, growing at a compound annual growth rate of 3.8 percent.
Last year, more than 1.8 billion passengers arrived at and departed from North America's airports. Globally, airport traffic surpassed 8.2 billion passengers. Airports Council International predicts that airports will see global traffic double by 2034.
Taking America Beyond the Horizon: The Economic Impact of Commercial Service Airports in 2017 was prepared for ACI-NA by the CDM Smith. The complete findings of the study can be found on the ACI-NA website.
The Alaska Department of Transportation and Public Facilities oversees 237 airports, 9 ferries serving 33 communities along 3,500 marine miles, over 5,600 miles of highway and 839 public facilities throughout the state of Alaska. The mission of the department is to "Keep Alaska Moving through service and infrastructure."
# # #