FOR IMMEDIATE RELEASE: May 29, 2018
Press Release: 18-1027
Deputy Commissioner John Binder Earns Professional Airport Accreditation
Binder joins elite group of airport executives who have completed all requirements of 64-year-old program.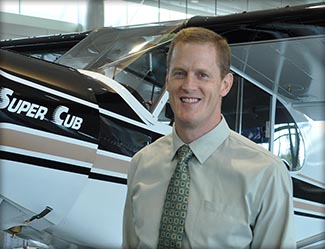 (ANCHORAGE, Alaska) – John Binder, A.A.E., ACE, Deputy Commissioner of Aviation for the Alaska Department of Transportation & Public Facilities (DOT&PF) has been awarded the distinction of Accredited Airport Executive (A.A.E.) by the American Association of Airport Executives (AAAE).
"I congratulate John for this achievement," said DOT&PF Commissioner Marc Luiken. "He demonstrates excellence in aviation management every day, and with this accreditation he continues to increase the capacity and credibility of the Alaska aviation system."
As Deputy Commissioner of Aviation, Binder leads Ted Stevens Anchorage and Fairbanks International Airports along with 240 state owned airports across Alaska.
To qualify for the distinction, Binder had to successfully complete three phases of the accreditation process: (1) pass a 180-item multiple-choice examination, (2) fulfill a writing requirement, and (3) demonstrate, in the final interview by a panel of A.A.E.s, his knowledge of airport management, business administration, and general transportation economics.
By fulfilling all the requirements leading to the title of Accredited Airport Executive, Binder joins a select group of individuals who have earned the designation in the six plus decades of the accreditation program's existence. At present, fewer than 10 percent of AAAE's members throughout the country are active accredited airport executives.
The Alaska Department of Transportation and Public Facilities oversees 237 airports, 9 ferries serving 33 communities along 3,500 marine miles, over 5,600 miles of highway and 839 public facilities throughout the state of Alaska. The mission of the department is to "Keep Alaska Moving through service and infrastructure."
# # #