FOR IMMEDIATE RELEASE: May 20, 2018
Press Release: 18-1026
The Denali Highway is Open for Public Travel
The opening was delayed this year due to heavy snowpack and several late spring storms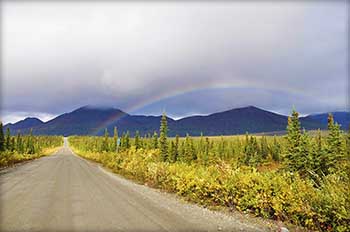 (FAIRBANKS, Alaska) – The Denali Highway is now open from Cantwell on the Parks Highway to Paxson on the Richardson Highway. The opening of the Denali Highway, originally scheduled for May 15, was delayed due to above-average snowpack and several late spring storms that significantly slowed plowing efforts.
Beginning in mid-April, maintenance and operations crews with the Alaska Department of Transportation and Public Facilities (DOT&PF) removed snow, thawed culverts and completed repairs along the 135-mile road. Working from both ends, crews met up on the afternoon of Friday, May 18 at milepost 37, just east of Maclaren Summit, opening the road to through-traffic.
Before traveling, please visit 511.alaska.gov or call 511 for the latest road condition and construction information. DOT&PF cautions drivers that conditions along the road are still rough in some sections. Be prepared for remote travel by carrying extra food and water, seasonally appropriate clothing, and a first aid kit. Seasonal weight restrictions are in effect; more information is available here.
The Alaska Department of Transportation and Public Facilities oversees 237 airports, 9 ferries serving 35 communities along 3,500 marine miles, over 5,600 miles of highway and 839 public facilities throughout the state of Alaska. The mission of the department is to "Keep Alaska Moving through service and infrastructure."
# # #