FOR IMMEDIATE RELEASE: May 9, 2018
Press Release: 18-1024
Denali Highway Summer Opening Delayed until June 1, 2018
The Paxson maintenance station has received 88 inches of snow this season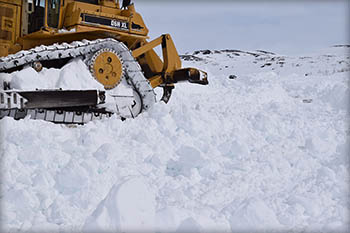 (FAIRBANKS, Alaska) –The summer opening of the Denali Highway has been delayed until June 1, 2018. The 135-mile road runs between Cantwell on the Parks Highway, to Paxson on the Richardson Highway and was scheduled to open on May 15.
Beginning in mid-April, Alaska Department of Transportation and Public Facilities (DOT&PF) maintenance and operations crews from Cantwell and Paxson began removing snow, thawing culverts, and completing repairs along the road from both sides. However, due to heavy snowfall throughout the year and several late spring storms, road clearing has been slower than expected.
The Paxson maintenance station has recorded 88 inches of snowfall this winter. According to the National Weather Service, the heavy snowfall combined with a cool spring have resulted in an above-average snowpack for early May.
As of May 9, the highway is open from the Cantwell end up to milepost 60, about ten miles east of Alpine Lodge, and from the Paxson end up to milepost 20 near Tangle Lakes. Both the Cantwell and Paxson maintenance crews continue to work to open the road from both ends as soon as possible.
The Alaska Department of Transportation and Public Facilities oversees 237 airports, 9 ferries serving 35 communities along 3,500 marine miles, over 5,600 miles of highway and 839 public facilities throughout the state of Alaska. The mission of the department is to "Keep Alaska Moving through service and infrastructure."
# # #