FOR IMMEDIATE RELEASE: March 22, 2018
Press Release: 18-1013
DOT&PF establishing new detour route for Glenn Highway.
Highway is expected to reopen by Monday morning.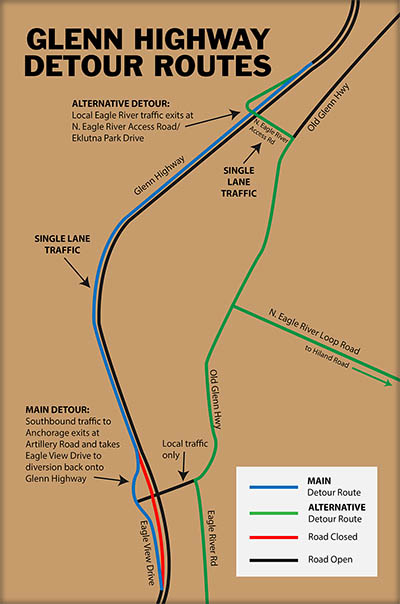 (ANCHORAGE, Alaska) –The Department of Transportation & Public Facilities is establishing a new Glenn Highway detour route that will be in place for the Friday morning commute for southbound traffic through Eagle River.
The main detour will have single lane traffic starting just before the North Eagle River Access Road exit. The detour will follow the exit at Artillery Road and then follow Eagle View Drive for several hundred feet until it is diverted back onto the Glenn Highway. Eagle River traffic will follow the alternative detour route, exiting at the North Eagle River Access Road exit, entering Eagle River via the Old Glenn Highway. Northbound traffic on the Glenn Highway will continue its normal traffic patterns.
After following emergency procurement processes, a contractor is now mobilizing to remove the damaged girder from the overpass at Artillery Road. At this time crews estimate the Glenn Highway will reopen to traffic by Monday morning. The detour is expected to be in place until Monday.
The new detour route should relieve congestion for local traffic in Eagle River, but travelers should still anticipate significant delays. Commuters who travel to Anchorage through this section of the Glenn Highway are encouraged to work from home on Friday if possible.
The southbound lanes of the Glenn Highway were closed Wednesday after the Artillery Road Bridge over the highway was severely damaged when it was struck by a truck with an overheight load.
Updates will be posted at 511.alaska.gov and at dot.alaska.gov/glennhighwayoverpass.
The Alaska Department of Transportation and Public Facilities oversees 237 airports, 9 ferries serving 33 communities along 3,500 marine miles, over 5,600 miles of highway and 839 public facilities throughout the state of Alaska. The mission of the department is to "Keep Alaska Moving through service and infrastructure."
# # #