FOR IMMEDIATE RELEASE: February 12, 2018
Press Release: 18-1005
Ted Stevens Anchorage International Airport Sees Growth in Cargo in 2017
Passenger traffic and concession sales remain stable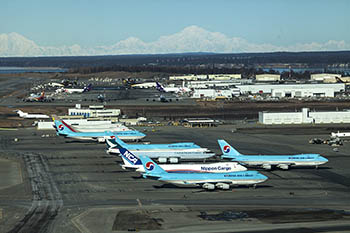 (ANCHORAGE, Alaska) – The Ted Stevens Anchorage International Airport (ANC) saw a steady increase in cargo activity in calendar year 2017 with 79,595 cargo landings, an increase of 4.6% compared to 2016. This increase brought an added $7 million to the Alaska International Airport System.
ANC remained third in North America for concession sales per passenger at $13.93 and passenger traffic in 2017 was stable at over 5 million. All ANC revenue is used to operate the airport as a self-sustaining entity, which is mandated by the Federal Aviation Administration. The strong revenue numbers this year allow ANC to provide a low-cost environment for its customers.
"The Ted Stevens Anchorage International Airport continues to be a strong performer in Alaska's economy," said Alaska Governor Bill Walker. "We highly value the central role that Anchorage plays in transpacific air cargo. As we continue to strengthen our relationships in Asia we will keep working hard for continued growth at ANC."
ANC welcomes back all its year-long and summer seasonal carriers in 2018, as well as an additional Saturday flight to Minneapolis from Sun Country Airlines.
"We are excited that Sun Country is adding an additional flight this summer," said ANC airport manager Jim Szczesniak. "This flight will bring in more passengers and that will have a direct impact on Alaska's tourism industry."
The Ted Stevens Anchorage International Airport is utilized by 22 major international air cargo carriers and 9 domestic cargo carriers. These carriers connect ANC to over 11 major cities in Asia and 18 major cities in North America. This connectivity has Anchorage ranked as the 6th busiest cargo airport in the world. One in 10 jobs in Anchorage are linked directly or indirectly to activity at the airport, generating over $1 billion in economic impact.
The Alaska Department of Transportation and Public Facilities oversees 237 airports, 9 ferries serving 35 communities along 3,500 marine miles, over 5,600 miles of highway and 839 public facilities throughout the state of Alaska. The mission of the department is to "Keep Alaska Moving through service and infrastructure."
# # #