FOR IMMEDIATE RELEASE: January 19, 2018
Press Release: 18-1002
State of Alaska Finalizes M/V Taku Sale
AMHS Seeking Memories and Stories of the Taku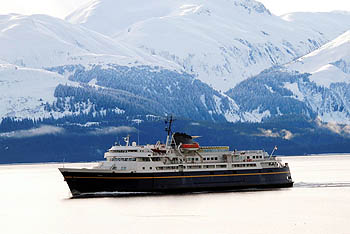 (JUNEAU, Alaska) – Today, the Alaska Department of Transportation & Public Facilities (ADOT&PF) signed papers transferring ownership of the M/V Taku to Jabal Al Lawz Trading Est. The final sale price was $171,000 and the vessel is expected to leave Alaska within a month.
"The sale is bittersweet for Alaska. The Taku is a beloved ship and it's hard to see her go. At the same time, we're glad to have the sale process completed and have earned a good value for the state," said Captain John Falvey, Alaska Marine Highway System General Manager.
The Taku was determined to be in excess of state needs for ferry vessels and outside the realm of what the state can afford to maintain and operate in passenger service with available funding. The vessel was constructed in 1963 and faithfully operated as a part of the Alaska Marine Highway System for over 50 years. The Taku was taken out of service on June 23, 2015.
"The Taku carried tens of thousands of travelers over the decade and entire generations grew up with the ferry. If people have stories or photos of working or traveling on the Taku, we'd love to hear and see them. We invite people to send memories of the Taku to AMHS via email to dot.ask@alaska.gov," added Falvey.
The Taku is currently at a mooring facility in Ward Cove in Ketchikan, Alaska. Ownership has been transferred, and per agreement the new owner will be responsible for the docking fees beginning February 19, 2018.
According to requirements of the Federal Highway Administration which has funded some of the Taku's repairs and upgrades over the years, a percentage of the net receipts from the sale must be used for federally eligible purposes or projects in Alaska.
The Alaska Department of Transportation and Public Facilities oversees 237 airports, 9 ferries serving 33 communities along 3,500 marine miles, over 5,600 miles of highway and 839 public facilities throughout the state of Alaska. The mission of the department is to "Keep Alaska Moving through service and infrastructure."
# # #