FOR IMMEDIATE RELEASE: January 5, 2018
Press Release: 18-1001
Jim Szczesniak named Ted Stevens Anchorage International Airport manager
Szczesniak brings both aviation and business experience to Alaska's largest airport.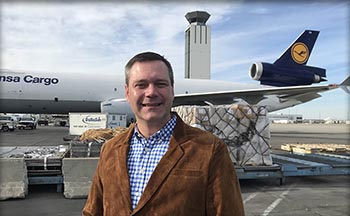 (ANCHORAGE, Alaska) – Governor Bill Walker has announced the appointment of Jim Szczesniak (says-knee-ak) as manager of Ted Stevens Anchorage International Airport (TSAIA).
"Jim has extensive experience in aviation and business," said Marc Luiken, Alaska Department of Transportation & Public Facilities Commissioner. "He started his career in aviation where he excelled through the ranks and he has a proven track record running a successful company. Jim's well rounded background will be an asset to TSAIA."
Szczesniak has a BS in Aviation Management from Southern Illinois University and an MBA in Accounting and Finance from the University of Chicago. He is a certified professional pilot and aviation mechanic. Szczesniak has over 20 years of supervisory and management experience, starting at O'Hare and Midway International Airports in Chicago where he served as airport operations supervisor, director of aviation planning and deputy commissioner of aviation. In these positions he was responsible for daily airfield management, air service development, oversight of the airport system's $5 billion capital improvement program and the development of a new $200 million air cargo complex. Most recently, Szczesniak was chief operating officer at Windy City Silkscreening where he focused on implementing operational efficiencies, strengthening business relationships and increasing revenue.

"I'm thrilled at this opportunity," said Jim Szczesniak. "I'm committed to continuing TSAIA's excellence in customer service and air cargo operations. I look forward to working with Alaska's business and tourism industries to grow jobs in Alaska based on our air cargo strength and to increase visitor traffic, both domestically and internationally, so that more people can experience the wonders of Alaska."
As TSAIA airport manager, Szczesniak is responsible for providing leadership and senior level direction. Annually, 5 million passengers, 2.5 million tons of cargo and $130 million in revenue pass through TSAIA. His first day is Jan. 22.
The Alaska Department of Transportation and Public Facilities oversees 237 airports, 9 ferries serving 33 communities along 3,500 marine miles, over 5,600 miles of highway and 839 public facilities throughout the state of Alaska. The mission of the department is to "Keep Alaska Moving through service and infrastructure."
# # #