FOR IMMEDIATE RELEASE: October 19, 2017
Press Release: 17-1034
ADOT&PF Safe Driving Tips for Winter Conditions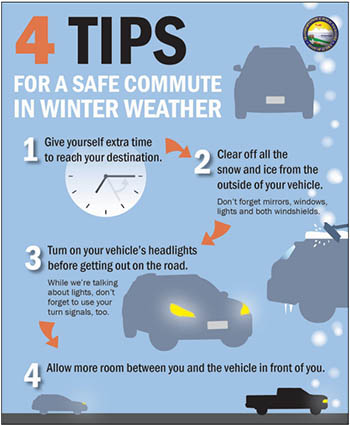 (ANCHORAGE, Alaska) – We can't deny it. For much of the state, winter is here. The Alaska Department of Transportation and Public Facilities (ADOT&PF) reminds drivers to be prepared for winter driving and offers tips to help you have a safe commute.
Drivers can follow four tips for a safe winter commute. First, be sure to give yourself extra time to reach your destination. If you have the option, wait until conditions improve. Second, be sure to clear off all the snow and ice from the outside of your vehicle. Don't forget mirrors, windows, lights and both windshields. Third, turn on your vehicle's headlights before getting on the road. Be sure to use turn signals, too; this is especially important when visibility is poor. Finally, always allow more room between you and the vehicle in front of you. This gives you time to react if you encounter unexpected conditions.
"ADOT&PF is made up of outstanding people who work hard every day to keep the roads open and safe for Alaksans," said Marc Luiken, ADOT&PF Commissioner. "This winter will be no different. We will continue to maximize the resources provided to the department from the operating budget."
ADOT&PF follows a systematic approach to clear Alaska's roads of snow and ice by categorizing every state-maintained road as one of five priority levels. Each level is based on traffic volume, speed, and connections to communities and other roads within the local transportation network. Response time during winter weather is usually dependent on the severity of the storm.
Priority 1 roads will receive the most winter maintenance, followed by Priority 2, Priority 3 and, finally, Priority 4. Priority 5 roads do not receive winter maintenance. The five priority levels are defined as:
Priority Level 1: high-volume; and high-speed highways, expressways, minor highways, all safety corridors and other major urban and community routes.

Priority Level 2: routes of lesser priority based on traffic volume, speeds and uses. Typically, these are major highways and arterials connecting communities.

Priority Level 3: major local roads or collector roads located in larger urban communities.

Priority Level 4: minor local roads that provide residential or recreational access.

Priority Level 5: roadways that are designated as "No Winter Maintenance" routes, e.g. Denali Highway or Taylor Highway.
The Winter Road Maintenance Priority Map is available to help Alaskans identify the priority level of the roads they drive most frequently. Additional winter season resources are available here.
ADOT&PF reminds drivers to prepare for safe winter travel and to drive according to road and weather conditions. Remember, posted speed limits are for dry pavement. Drivers can access travel information by visiting 511.Alaska.Gov or dialing 5-1-1.

The Alaska Department of Transportation and Public Facilities oversees 237 airports, 10 ferries serving 35 communities, more than 5,600 miles of highway and 776 public facilities throughout the state of Alaska. The mission of the department is to "Keep Alaska Moving through service and infrastructure."

# # #