FOR IMMEDIATE RELEASE: September 20, 2017
Press Release: 17-1029
ADOT&PF Awarded NASAO Most Innovative State Award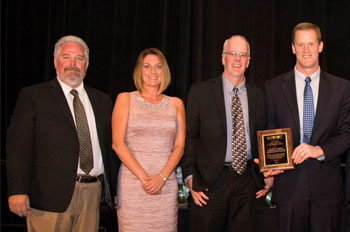 (ANCHORAGE, Alaska) – The National Association of State Aviation Officials (NASAO) awarded the "Most Innovative State Award" to the Alaska Department of Transportation and Public Facilities (DOT&PF) for a series of DOT&PF-produced aircraft familiarization videos for Aircraft Rescue & Firefighting (ARFF) training. The videos are a highly focused training tool aimed at honing the life and property saving skills of the men and women who serve as first responders at DOT&PF airports.
The DOT&PF team, led by Todd Hanley and Sergeant Darcey Perry, created the videos to better familiarize first responders with aircraft that operate at their airports. They chose five aircraft most commonly used at DOT&PF certificated airports. The team worked with flight crews from Alaska Airlines, Ravn Alaska, PenAir and LifeMed Alaska to develop the videos.
"The Aircraft Rescue and Firefighting training videos have changed the way Alaska conducts training and I'm thrilled to see that many airports nationwide are finding them equally beneficial," said DOT&PF Deputy Commissioner John Binder.
The ARFF training videos can be viewed here.
The Alaska Department of Transportation and Public Facilities oversees 237 airports, 10 ferries serving 35 communities, more than 5,600 miles of highway and 776 public facilities throughout the state of Alaska. The mission of the department is to "Keep Alaska Moving through service and infrastructure."
# # #