FOR IMMEDIATE RELEASE: May 5, 2017
Press Release: 17-1010
ADOT&PF AMHS Deputy Commissioner Neussl Retiring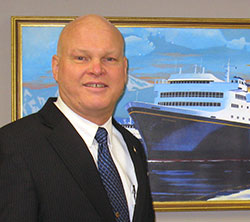 (JUNEAU, Alaska) – Alaska Department of Transportation & Public Facilities (ADOT&PF) Commissioner Marc Luiken yesterday accepted the resignation and retirement request of Alaska Marine Highway System (AMHS) Deputy Commissioner Captain Mike Neussl.
"It is difficult to lose such an honorable and dedicated leader like Captain Neussl," Commissioner Luiken said. "He has done so much to enable AMHS to continue to deliver the best possible service to coastal Alaskans during these difficult budget times. He will be greatly missed."
Neussl served as ADOT&PF deputy commissioner for marine operations between 2011 and 2012. He then rejoined the department in February 2015. A former U.S. Coast Guard captain, Neussl retired in 2010 after 30 years of service and amassed over 5,100 helicopter flight hours.
His last day will be Friday, May 12.
The Alaska Department of Transportation and Public Facilities oversees 237 airports, 10 ferries serving 35 communities, more than 5,600 miles of highway and 776 public facilities throughout the state of Alaska. The mission of the department is to "Keep Alaska Moving through service and infrastructure."
# # #