FOR IMMEDIATE RELEASE: Nov. 22, 2016
No.: 16-1031
Alaska sees 34 percent increase in motor vehicle traffic fatalities in 2016
ADOT&PF reminds travelers to drive with care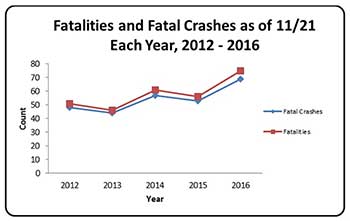 (JUNEAU, Alaska) – Motor vehicle traffic fatalities are on the rise this year in Alaska, and the Alaska Department of Transportation and Public Facilities (ADOT&PF) would like to remind travelers to drive with care as the holidays approach.
As of Nov. 21, Alaska has had 75 traffic fatalities in 69 fatal crashes in 2016, according to the ADOT&PF Alaska Highway Safety Office. This compares to 56 fatalities in 53 fatal crashes for the same date in 2015.
Traffic fatalities are on the rise nationally, as well. Preliminary data from the National Highway Traffic Safety Administration (NHTSA) show traffic fatalities rose by 10.4 percent in the first half of 2016 compared to the first half of 2015.
According to NHTSA, it is too soon to conclude what is causing this nationwide increase, but many point to a dramatic increase in the number of miles driven in recent years stemming from lower fuel prices and to the proliferation of drivers using smartphones or other technology while driving.
According to the Alaska Highway Safety Office, driver behavior contributed to about 75 percent of traffic fatalities in Alaska on average in recent years. The office's data show these behaviors include impaired driving, speeding, and non-use and/or improper use of restraints, such as seatbelts.
ADOT&PF reminds Alaskans to follow safe driving practices. These include driving for conditions, using seat belts and headlights, not driving while impaired, and staying back from snow and ice removal equipment. The department also urges drivers to visit 511.alaska.gov or call 511 to check road conditions before traveling.
The Alaska Department of Transportation and Public Facilities oversees 237 airports, 10 ferries serving 35 communities, more than 5,600 miles of highway and 776 public facilities throughout the state of Alaska. The mission of the department is to "Keep Alaska Moving through service and infrastructure."
# # #