FOR IMMEDIATE RELEASE: January 26, 2016
No.: 16-1004
ADOT&PF Taking Additional Steps to Protect the Dalton Highway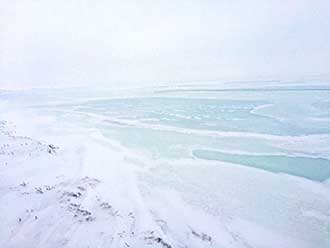 (FAIRBANKS, Alaska) –After reviewing current overflow patterns and locations on the Dalton Highway, the Alaska Department of Transportation & Public Facilities (ADOT&PF) is moving forward with contingency plans to protect the road from the Sag River.
ADOT&PF is pursuing construction of a gravel berm adjacent to the Dalton Highway. The berm will be constructed on the east side of the road, from Mile 394-397. At Mile 397, the berm will connect with the raised roadway, which was constructed last summer.
Work on the berm is expected to begin mid-February at the latest. Until then, crews will continue building berms with snow, burlap and rebar to keep overflow away from the road.
The Dalton Highway is vital infrastructure to the state, and ADOT&PF is working diligently to protect the road.
For more information on the Dalton Highway overflow, visit: http://1.usa.gov/1JCgXWU
The Alaska Department of Transportation and Public Facilities oversees 237 airports, 10 ferries serving 35 communities, more than 5,600 miles of highway and 776 public facilities throughout the state of Alaska. The mission of the department is to "Keep Alaska Moving through service and infrastructure."
# # #