FOR IMMEDIATE RELEASE: July 3, 2015
No.: 15-2539
ADOT&PF opening waysides, reminds travelers to haul out trash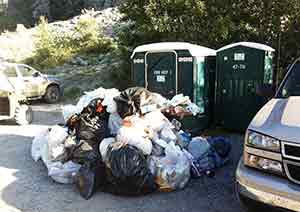 (FAIRBANKS, Alaska) –As the July Fourth holiday approaches, Gov. Walker has requested that the Alaska Department of Transportation & Public Facilities (ADOT&PF) open all ADOT&PF maintained waysides through the summer. As a budget saving measure, ADOT&PF was closing 11 waysides across the state, including three at Canyon Creek on the Seward Highway/Hope Junction. All waysides will be open in time for the holiday weekend.
ADOT&PF reminds travelers to haul out their trash when visiting remote locations. Please do not rely on the trash cans at businesses and waysides as these fill up quickly. Leaving trash behind also attracts bears, which can lead to dangerous situations.
Garbage service does not exist in remote communities, so when these locations are inundated with travelers who leave all of their trash behind, it can be overwhelming. Removing the trash requires a significant commitment of time and effort. It adds to costs for businesses and for the State of Alaska.

The Alaska Department of Transportation and Public Facilities oversees 237 airports, 10 ferries serving 35 communities, more than 5,600 miles of highway and 776 public facilities throughout the state of Alaska. The mission of the department is to "Keep Alaska Moving through service and infrastructure."
# # #