FOR IMMEDIATE RELEASE: April 14, 2015
No.: 15-2519
Commercial traffic increases through flooded part of Dalton Highway
Department to open MP395-405 to private vehicles, with restrictions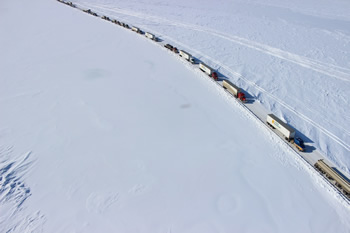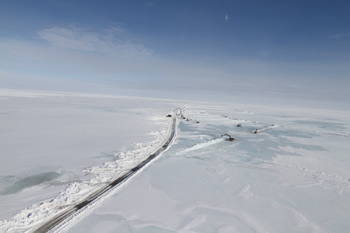 (DEADHORSE, Alaska) – The Alaska Department of Transportation and Public Facilities (ADOT&PF) increased commercial traffic today through Miles 395-405 Dalton Highway. Today, 204 vehicles total transited the flooded section of highway. This total includes northbound and southbound traffic.
Convoys of up to 50 commercial vehicles began transiting the flooded section of highway northbound at 8 a.m. Throughout the day, convoys alternated north- and southbound before the road closed at Miles 395-405 for heavy, overnight maintenance. Flaggers are controlling traffic through the area. ADOT&PF expects to repeat this schedule Wednesday.
With continued success in managing water levels in the flooded area of the roadway, access to the flooded area is now being opened on a restricted basis for privately owned vehicles. All instructions for privately owned vehicle access will be provided by Public Safety Officers.
Beginning at 8 a.m. Wednesday, full-size four-wheel-drive trucks will be allowed to transit through the flooded area between Miles 395 and 405.
Private vehicles are to maintain a safe speed and follow the instructions provided by the flaggers, ADOT&PF personnel and Public Safety Officers.
As conditions improve, private vehicles capable of safely transiting the flooded area may be allowed to travel in both directions.
Two-wheel-drive vehicles or those with low ground clearance will not be admitted to the flooded area until routine two-way road operations return.
The focus for crews Wednesday will continue to be reinforcing the snow berm that is protecting the road from flooding. Crews also will continue trenching activities off the road; the goal of the trench system is to divert water away from the highway.
A new aerial tool will be added to the arsenal tomorrow morning if weather conditions continue to be favorable. A crop duster will drop black sand onto the ice covering the main channel of the Sag River. The dark sand will absorb light, and the warmth will help speed the melting of the ice and encourage increased flow away from the road.

The Alaska Department of Transportation and Public Facilities oversees 237 airports, 10 ferries serving 35 communities, more than 5,600 miles of highway and 776 public facilities throughout the state of Alaska. The mission of the department is to "Keep Alaska Moving through service and infrastructure."
# # #