FOR IMMEDIATE RELEASE: April 2, 2015
No.: 15-2511
Denali Highway Bridge Work Starting
One Lane Open for Equipment Access Only, Susitna Bridge Closing April 10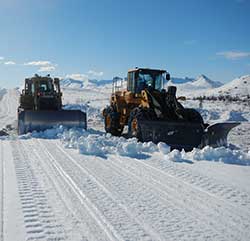 (FAIRBANKS, Alaska) – The Alaska Department of Transportation and Public Facilities is now opening the western end of the Denali Highway. Only one lane of the road will be open from the Parks Highway.
The road is being cleared to enable workers and equipment to make repairs to the Susitna Bridge at Mile 80. Work on the Susitna Bridge is anticipated to start April 10 and will continue through May 15, the bridge will be closed during this time.
The opening of the Denali Highway usually begins in mid-April, with crews working on the road from both the Parks Highway and the Richardson Highway sides. The Denali Highway is scheduled to be open to the public May 15.
The Alaska Department of Transportation and Public Facilities oversees 237 airports, 10 ferries serving 35 communities, more than 5,600 miles of highway and 776 public facilities throughout the state of Alaska. The mission of the department is to "Keep Alaska Moving through service and infrastructure."
# # #