FOR IMMEDIATE RELEASE: February 3, 2015
No.: 15-2502
ADOT&PF Commissioner Luiken Appoints Two Deputy Commissioners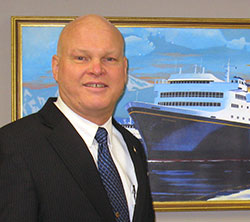 (JUNEAU, Alaska) – Alaska Department of Transportation and Public Facilities (ADOT&PF) Commissioner Marc Luiken has appointed Deputy Commissioner Steven Hatter and Deputy Commissioner Mike Neussl.
"Mike and Steve are proven leaders who possess a wealth of knowledge and experience dealing with Alaska's vast and complex transportation system," said ADOT&PF Commissioner Luiken. "It is an honor to have them rejoin my team."

Hatter previously acted as ADOT&PF Deputy Commissioner of Aviation from 2011 to 2014. He most recently worked for RLG International Consulting with ConocoPhillips and CH2M HILL. Hatter served in the U.S. Air Force for 26 years, retiring from the active duty rank of Colonel. He holds a master's in international relations, a master's in national security policy and a master's in project management.
Neussl previously served two years at ADOT&PF as Deputy Commissioner for Marine Operations between 2011 and 2012. A former U.S. Coast Guard Captain, Neussl retired in 2010 after 30 years of service, and amassed over 5,100 helicopter flight hours. Neussl was a 1998 NASA Space Shuttle Mission Specialist finalist. He holds a master's in engineering with an aeronautical focus.
Deputy Commissioner Neussl rejoined ADOT&PF Monday, Feb. 2. Hatter is expected to begin mid-February.
The Alaska Department of Transportation and Public Facilities oversees 237 airports, 10 ferries serving 35 communities, more than 5,600 miles of highway and 776 public facilities throughout the state of Alaska. The mission of the department is to "Keep Alaska Moving through service and infrastructure."
# # #