FOR IMMEDIATE RELEASE: November 7, 2014
No.: 14-2560
ADOT&PF employees earn Extra Mile Award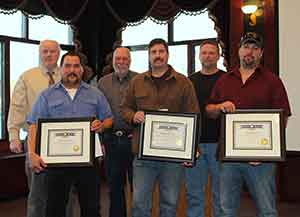 (FAIRBANKS, Alaska) – On Oct. 28, Alaska Department of Transportation and Public Facilities (ADOT&PF) Commissioner Pat Kemp awarded four employees with the department's inaugural Extra Mile Award, which recognizes employees who surpass expectations for exemplary public service.
Chandalar maintenance camp foreman Matthew Ellingson and equipment operators Timothy Fickus, Paul Krenzke and Kevin Wood were honored for their efforts in assisting a co-worker critically injured in a fall last winter during a severe storm in Atigun Pass on the Dalton Highway.
"During extreme conditions, a tragic situation unfolded," said Pat Kemp, ADOT&PF Commissioner. "As our department mourns with the family, we take comfort in knowing that Matt, Tim, Paul and Kevin exhibited compassion and bravery. We are proud of their actions."
The incident occurred early in the morning of Feb. 6 as Maintenance and Operations crews prepared to open Atigun Pass. The area was experiencing 40 mph winds, snowdrifts and possible avalanches. Because of high winds and low visibility, emergency response could not reach the injured employee until daylight.
For more than three hours, the four men cared for and comforted their injured co-worker. During this time, it became evident that the injuries were life threatening, and the four men performed CPR for more than 90 minutes, until emergency response was on scene.
ADOT&PF employees may be nominated for the Extra Mile Award for demonstrating innovative techniques and methods; outstanding leadership; visionary thinking; personal valor or bravery; crisis management; or outstanding customer service.
The Alaska Department of Transportation and Public Facilities oversees 237 airports, 10 ferries serving 33 communities along 3,500 marine miles, over 5,600 miles of highway and 839 public facilities throughout the state of Alaska. The mission of the department is to "Keep Alaska Moving through service and infrastructure."
# # #