FOR IMMEDIATE RELEASE: July 1, 2014
No.: 14-2537
Anchorage Airport Welcomes Naniq Global Logistics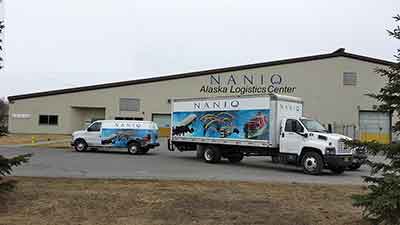 (ANCHORAGE, Alaska) – The Alaska Department of Transportation and Public Facilities is pleased to announce that Naniq Global Logistics (NGL) has opened a new location at the Ted Stevens Anchorage International Airport. NGL's Anchorage building is home to their Global Customer Service Center, and Custom House brokerage facility. NGL specializes in international and domestic air freight forwarding. The 40,000 square foot facility is located in the South Air Park, formerly Kulis Air National Guard Base.
"NGL is a perfect fit for this location and provides the cargo industry support essential to the airport's long-term growth," said John Binder, Deputy Commissioner, Alaska Department of Transportation and Public Facilities.
Anchorage Airport has actively pursued tenants for this location since the Air National Guard moved operations in 2011.
Raymond Donahue, Executive Vice President for NGL, said "We are excited to open a new location at the airport and proud to be able to provide jobs and positive growth in the logistics industry to Anchorage."
For information on leasing property at the airport, please contact Tonia Winkler, Land Manager, at 907-266-2780 or Tonia.Winkler@Alaska.gov.
The Alaska Department of Transportation and Public Facilities oversees 237 airports, 10 ferries serving 33 communities along 3,500 marine miles, over 5,600 miles of highway and 839 public facilities throughout the state of Alaska. The mission of the department is to "Keep Alaska Moving through service and infrastructure."
# # #