FOR IMMEDIATE RELEASE: June 23, 2014
No.: 14-2534
Highway Safety Corridors Receive Informational Speed Limit Signs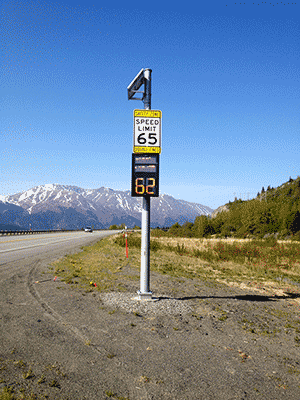 (ANCHORAGE, Alaska) – The Alaska Department of Transportation & Public Facilities recently installed radar-activated speed limit signs on Alaska's four highway safety corridors. The signs are intended to further enhance safety measures by providing drivers with instant visual feedback as to whether or not they are speeding. The new signs do not take photos, nor are they used for enforcement.
As a continuation of Governor Sean Parnell's 2013 Safety Initiative, the new signs are another component of the Intelligent Transportation System. Other components include weather sensors, avalanche detection systems and highway message boards. Additional information about the Highway Safety Initiative may be found at dot.alaska.gov/hsi.
The four safety corridors are located on the Parks Highway, Knik-Goosebay Road, Sterling Highway and the Seward Highway. Serious crashes on Alaska safety corridors have decreased by 50 percent since 2006, when the first of four corridors were established. Visit dot.alaska.gov/safetycorridors for more information about Alaska's designated safety corridors.
The Alaska Department of Transportation and Public Facilities oversees 237 airports, 10 ferries serving 33 communities along 3,500 marine miles, over 5,600 miles of highway and 839 public facilities throughout the state of Alaska. The mission of the department is to "Keep Alaska Moving through service and infrastructure."
# # #