FOR IMMEDIATE RELEASE: March 17, 2014
No.: 14-2514
Ted Stevens Airport Awarded Top Air Cargo Airport in North America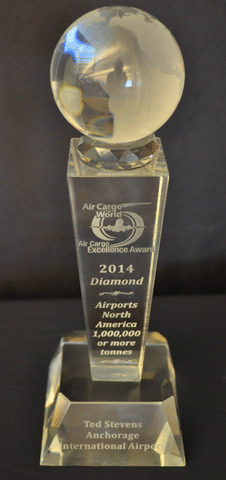 Ted Stevens Anchorage International Airport was awarded the top air cargo airport in North America for 2013. This is the second time in three years that the airport has received this distinguished honor.
(ANCHORAGE, Alaska) – The Alaska Department of Transportation & Public Facilities (ADOT&PF) Ted Stevens Anchorage International Airport was recently honored by Air Cargo World with the Air Cargo Excellence award as the best cargo airport in North America for 2013.
"Congratulations to our great staff at Ted Stevens Anchorage International Airport on receiving the Air Cargo Excellence Award for the second time in three years. Alaskans are proud of our largest airport for its global leadership in the cargo industry and role as an economic engine in our state," said ADOT&PF Commissioner Pat Kemp.
The Air Cargo Excellence award is a testament to the collaborative efforts in the cargo operations at the airport and the focus on providing first class service to the aviation community. From airport staff to ground handlers to regulatory agencies, all work together to ensure a safe and efficient operation that the carriers recognize as exemplary. ANC also won the award in 2012 and was second in 2011, demonstrating a tradition of excellent service.
"As a carrier, UPS is proud of the outstanding partnership we have with the Ted Stevens Anchorage International Airport," said UPS Airport Properties Manager Kevin Hoffmann. "We are not surprised that Anchorage has won this award. Anchorage plays a vital role in our global network, helping us serve customers in more than 220 countries and territories around the world."
A significant part of this success is due to the forward thinking planning efforts by ANC. Being prepared for the Boeing 747-8 with ample pull-through parking and easy access to and from the runway and in-ground hydrant fuelling provides great benefit to cargo carriers. This strategic thinking is embodied in the soon-to-be-complete Airport Master Plan which advocates a demand-driven, incrementally responsive plan to meet increased demand if and when it occurs in the future.
The Alaska International Airport System (AIAS) - comprised of Ted Stevens Anchorage and Fairbanks International Airports - is home to over 30 international and domestic airlines providing passenger and cargo service throughout Alaska, the United States, Europe, and Asia. AIAS is an extraordinary economic engine; serving nearly 6 million passengers per year and accounting for 1 in 10 jobs in Anchorage and 1 in 20 jobs in Fairbanks. The purpose of AIAS is "To Keep Alaska Flying and Thriving."
The Alaska Department of Transportation and Public Facilities oversees 237 airports, 10 ferries serving 33 communities along 3,500 marine miles, over 5,600 miles of highway and 839 public facilities throughout the state of Alaska. The mission of the department is to "Keep Alaska Moving through service and infrastructure."
# # #