FOR IMMEDIATE RELEASE: October 17, 2013
No.: 13-2547
ADOT&PF Improving Rural Airport Service and Developing Workforce

click images for larger view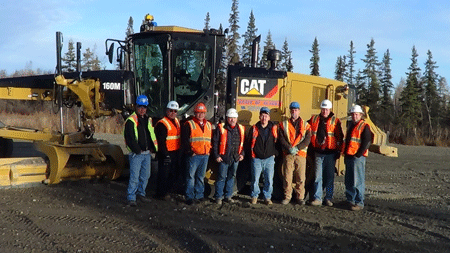 (L-R) Ron Trader, Emmonak; Davis Lincoln, White Mountain; Robert Kruger, Nulato; Ken Assyd, Instructor; Bryan Rooko Jr., Savoonga; Curtis Oliver, Golovin; Jason Malemute, Koyukuk; and Saul Williams, Instructor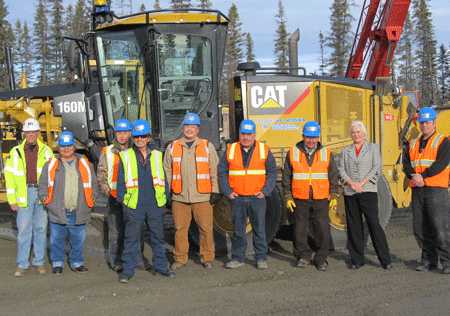 (L-R) Al Odom, Operator Instructor; Carl Kiunya, Kipnuk; Ed Kiokun, Mekoryuk; Paul Gundersen, Sand Point; Larry Hale, Hooper Bay; Warren Wilson, King Cove; John George, Akiachak; Kathleen Castle, Executive Director, Alaska Construction Academies; Derek Schraffenberger, Port Heiden
(ANCHORAGE, Alaska) – Rural airport contractors responsible for maintaining state airports recently received training on airport operations, safety, equipment operation and maintenance, lighting system maintenance, and education on how vital the contractors are to their community and the statewide aviation system.
Airport contractors from Koyukuk, Nulato, Golovin, Emmonak, Savoonga, White Mountain, Hooper Bay, Mekoryuk, Kipnuk, Akiachak, Port Heiden, Sand Point, and King Cove participated in weeklong classes held at the Fairbanks Pipeline Training Center.
"A trained and skilled workforce is a valuable community asset that will benefit the department, local communities, contractors, and the State of Alaska," said Mike Coffey, Chief of Statewide Maintenance and Operations. "We hope to continue this training."
The Alaska Department of Transportation and Public Facilities (ADOT&PF) partnered with the Fairbanks Pipeline Training Center, the Construction Education Foundation of the Associated General Contractors of Alaska (AGC), and the Alaska Operating Engineers Employers Training Trust to provide the training, with major funding coming from a Denali Commission grant.
"These rural residents are responsible for maintaining a valuable state transportation asset and a critical component of rural Alaska - airports. Improving their skills has been a big boost to public safety in their communities," said John MacKinnon, Executive Director of the AGC. "This also adds these contractors to our inventory of a well trained rural workforce. I'm pleased with the partnership and cooperation that made this happen and look forward to it continuing."

The Alaska Department of Transportation and Public Facilities oversees 237 airports, 10 ferries serving 35 communities, more than 5,600 miles of highway and 776 public facilities throughout the state of Alaska. The mission of the department is to "Keep Alaska Moving through service and infrastructure."
# # #