FOR IMMEDIATE RELEASE: May 9, 2013
No.: 13-2522
Alaska Ranks Top Ten in Bike to School Day Participation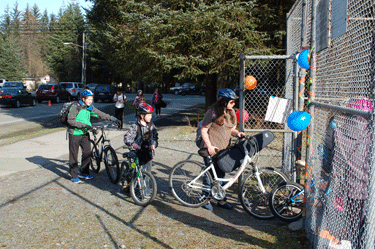 (JUNEAU, Alaska) – In part of the celebration of May National Bike Month, students across Alaska joined their peers nationwide yesterday by biking to school on National Bike to School Day.
The Alaska Department of Transportation and Public Facilities (ADOT&PF) Safe Routes to School Program is pleased to announce that 69 schools participated statewide in the event, which ranks sixth in the nation for the total number of participating schools per state; besting several states with much larger populations and much fairer weather, such as Texas and Arizona.
Grassroots efforts like Bike to School Day are essential to improving safety for everyone by raising awareness of bike and pedestrian issues. The event offers the opportunity for students across the nation to join together on a single day, to promote fun and healthy physical activities. It helps kids of all ages learn to be more safe as they bike and walk around their community.
Bicycling to school and work increases physical activity, which is encouraged by the Center for Disease Control, to halt the increasing trend of obesity in our young people and adults. If more students are walking or bicycling, this will also reduce the traffic congestion during peak hours and vehicle emissions near our schools. This can help reduce asthma and other breathing issues, children currently face. Bicycling to work or school also reduces our dependence on gasoline and promotes cleaner air for the community. Most importantly, it's fun!
For more information on Safe Routes to School Walking and Biking programs; visit the Alaska Safe Routes to School website at www.dot.alaska.gov/saferoutes or call
Steve Soenksen, Safe Routes to School Coordinator, at 907-465-4069.
To learn more about participating schools in Alaska and nationwide, or for more information on National Bike to School Day, please visit the Walk Bike to School Day website at www.walkbiketoschool.org.
The Alaska Department of Transportation and Public Facilities oversees 255 airports, 11 ferries serving 35 communities, 5,619 miles of highway and 720 public facilities throughout the state of Alaska. The mission of the department is to "Keep Alaska Moving through service and infrastructure."
# # #