FOR IMMEDIATE RELEASE: April 5, 2013
No.: 13-2514
The Taylor Highway is Open to Eagle
Drivers are encouraged to check road conditions at 511.Alaska.Gov before traveling.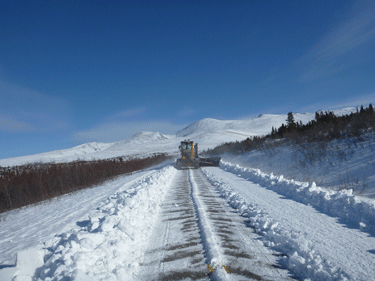 (FAIRBANKS, Alaska) –The Taylor Highway is now open from the Alaska Highway to the City of Eagle. Alaska Department of Transportation and Public Facilities (ADOT&PF) Maintenance and Operations crews started removing snow and ice along the 160-mile road in late March.
The Boundary Spur, also known as the Top of the World Highway, remains closed until U.S./Canadian Customs opens in mid-May. Opening of the border is predicated on the breakup of the Yukon River at Dawson, which will allow the George Black Ferry to operate.
ADOT&PF reminds travelers to drive with extreme caution, especially between miles 93-126. Anticipate winter weather, especially in higher elevations. Watch for drifting snow, icy conditions, running water, and maintenance personnel and equipment near the road.
ADOT&PF recommends that drivers travel with winter survival gear and chains.
American Summit, milepost 140, will be monitored during the following hours, please plan travel accordingly:
Monday through Thursday, 8:00 a.m. - 4:30 p.m.
Friday through Saturday, 10:00 a.m. - 12:00 p.m.
Before traveling the Taylor Highway visit 511.alaska.gov or call 511 for the latest conditions. The road may only be open for a couple of hours on the weekend due to drifting and blowing snow.
The Alaska Department of Transportation and Public Facilities oversees 255 airports, 11 ferries serving 35 communities, 5,619 miles of highway and 720 public facilities throughout the state of Alaska. The mission of the department is to "Get Alaska Moving through service and infrastructure."
# # #