FOR IMMEDIATE RELEASE: February 15, 2013
No.: 13-2508
Alaska DOT&PF to Use Tow Plows This Spring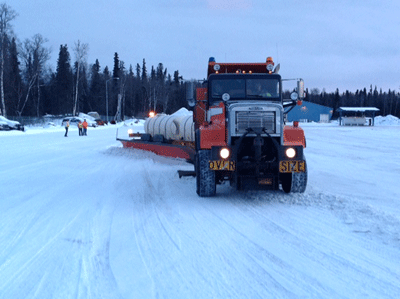 (JUNEAU, Alaska) – This spring state snow removal fleets in Juneau and Soldotna will be deploying new tow plows in an effort to clear roadways more efficiently. The Alaska Department of Transportation and Public Facilities (ADOT&PF) will be using the new snow removal equipment at both locations to determine how effective the tow plow can be on Alaska's snow-covered roads.
"Several other states have been using tow plows for a few years now with great success," said Michael Coffey, ADOT&PF statewide maintenance engineer. "Normally it takes two trucks in procession to clear two lanes of traffic. With a tow plow, one truck will be able to clear two lanes of traffic and the second truck can then focus on plowing additional roads sooner. This allows the department to clear roads more efficiently and improve traveler safety."
Tow plows are a steerable, trailer-mounted plow pulled behind a conventional snowplow truck. When plowing snow, the tow plow can be steered into the right lane allowing the truck to clear two lanes of traffic simultaneously. Total cost for each tow plow was about $90,000.
"At first sight, motorists may be alarmed by the extra plow blade angled out from behind the plow truck," said Coffey. "We want to make sure that drivers aren't caught off-guard and understand that the plow is working as intended."
ADOT&PF reminds drivers to watch for snow removal equipment and to give them plenty of room; stay at least 200 feet back and do not pass on the right. Snow removal equipment can cause white out conditions when trailing motorists are driving too close.
Road conditions for Alaska highways are available online at 511.alaska.gov or by calling 511. For additional winter season resources and driving tips visit dot.alaska.gov/winter. ADOT&PF urges travelers to use these resources before traveling throughout the state.
The Alaska Department of Transportation and Public Facilities oversees 255 airports, 11 ferries serving 35 communities, 5,619 miles of highway and 720 public facilities throughout the state of Alaska. The mission of the department is to "Get Alaska Moving through service and infrastructure."
# # #