FOR IMMEDIATE RELEASE: February 7, 2013
No.: 13-2505
Contact: Linda Bustamante, 907-269-8654, Linda.Bustamante@alaska.gov
State Seeks Vendors at Northway Airport
Exciting Business Opportunity at Gateway Airport to Alaska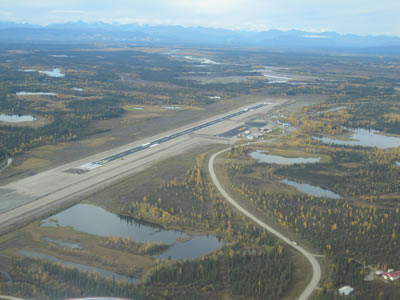 (ANCHORAGE, Alaska) – The Alaska Department of Transportation & Public Facilities (ADOT&PF), Aviation Leasing, seeks entrepreneurs interested in providing aviation fueling, aircraft or passenger support services at the Northway Airport. Land is available for lease, and both short term seasonal and long term operations are possible.
Northway Airport, located 50 miles south of Tok, off of the Alaska Highway, offers a unique opportunity for businesses to partner with the state of Alaska. This is an important gateway airport for the general aviation community traveling to and from Alaska, through Canada.
ADOT&PF received a request for fuel availability (avgas) for approximately 50 aircraft planning to clear U.S. Customs at the Northway Airport July 1, 2013. ADOT&PF would like to find an operator able to accommodate this request and/or bring permanent fuel service to the airport.
For more information, please contact Penelope Adler, Chief, Northern Region Aviation Leasing, ADOT&PF at (907) 451-5226 or penny.adler@alaska.gov
The Alaska Department of Transportation and Public Facilities oversees 255 airports, 11 ferries serving 35 communities, 5,619 miles of highway and 720 public facilities throughout the state of Alaska. The mission of the department is to "Get Alaska Moving through service and infrastructure."
# # #