FOR IMMEDIATE RELEASE: October 2, 2012
No.: 12-2595
DOT&PF's Jennifer Anderson Awarded FHWA Public Service Award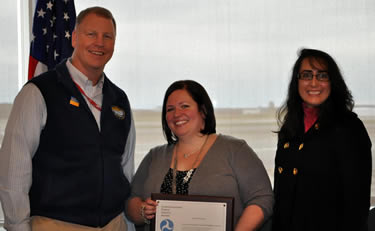 (FAIRBANKS, Alaska) –Two years of Jennifer Anderson's (formerly Jennifer Eason) hard work were rewarded last month when she received the Federal Highway Administrator's (FHWA) Public Service Award. Anderson, a transportation planner for the Department of Transportation & Public Facilities (DOT&PF), earned the honor for her contributions updating the Traffic Monitoring Guide (TMG).
The TMG assists state DOTs by providing standards and procedures for traffic monitoring in order to collect accurate data about vehicle, pedestrian and bicycle traffic. DOTs and other state and federal agencies, including natural resources, parks and other local governments, regularly use this data. Anderson said economists, realtors and developers also request the data as a growth indicator.
"This is the highest award given to a non-FHWA employee," FHWA Assistant Division Administrator Sandra Garcia-Aline said, speaking to the importance of Anderson's work.
Anderson was one of about a dozen team members from DOTs across the nation who updated the TMG. Other team members also received FHWA's Public Service Award. Anderson said she also credits her peers at Alaska DOT&PF, who helped by reviewing chapters and offering their input.
"Our whole team statewide helped with the effort," Anderson said.
"We are very proud of Jennifer," former DOT&PF commissioner Marc Luiken said. "Collecting accurate data is a critical part of the Department of Transportation's mission in Alaska and beyond. Jennifer's work will help DOTs in all 50 states serve their publics better and more efficiently."
FHWA will publish the updated TMG online this winter.
The Alaska Department of Transportation and Public Facilities oversees 255 airports, 11 ferries serving 35 communities, 5,619 miles of highway and 720 public facilities throughout the state of Alaska. The mission of the department is to "Get Alaska Moving through service and infrastructure."
# # #