FOR IMMEDIATE RELEASE: May 25, 2012
No.: 12-2552
Airport Police and Fire Participate in Torch Run for Special Olympics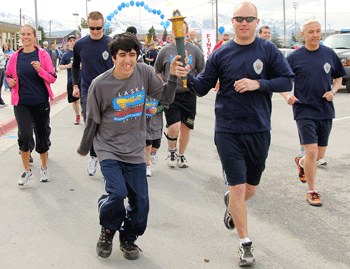 (Anchorage, Alaska) –The Airport Police and Fire Department fielded a team of ten members to participate in the Alaska Law Enforcement Torch Run for Special Olympics held on Saturday, May 19, 2012. The team, named the Airport Flyers, included members of the Police and Fire Department and their friends and family, who collected $394 to support Special Olympics in Alaska.
"We had a great time supporting the community and participating in this year's event!" said Deputy Chief Dave Schulling, who has participated in this event for the past two years. "Our officers and their families enjoy the opportunity to be active in the community and support such a great cause."

The Alaska Law Enforcement Torch Run and Pledge Drive is the largest simultaneous multi-community running event held in Alaska. The communities of Anchorage, Barrow, Delta Junction, Fairbanks, Homer, Juneau, Kenai, Ketchikan, Kodiak, Mat-Su, Seward, Sitka, and Valdez participated.
The Airport Police and Fire Department employs over 60 people, including certified officers and administrative staff. Anchorage Airport Police officers receive certification as state police officers after completion of statutorily mandated requirements through the Alaska Police Standards Council. Prior to receiving certification, each officer must pass a rigorous hiring process, complete the Alaska State Trooper Police Academy, complete qualifications as outlined by the Alaska Police Standards Council, and fulfill department mandated field training programs. In addition, all officers are cross-trained as state firefighters.
The mission of the Airport Police and Fire Department is to "Protect life and property by providing professional police, firefighting, and emergency medical services. We dedicate ourselves to the Alaskan community through Honor, Courage, and Integrity."
The Alaska Department of Transportation and Public Facilities (ADOT&PF) oversees 254 airports, 11 ferries serving 34 communities, 5,700 miles of highway and 660 public facilities throughout the state of Alaska. The mission of ADOT&PF is to "Get Alaska Moving through service and infrastructure."
# # #