FOR IMMEDIATE RELEASE: October 5, 2023
Press Release: 23-0031
DOT&PF Takes Home National Award
2023 NASAO Most Innovative State Program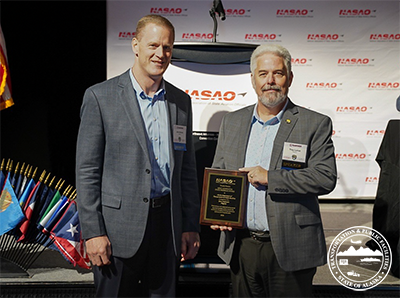 Former Deputy Commissioner John Binder, and Division Operations Manager Troy LaRue accepting the award at the NASAO Conference.
(JUNEAU, Alaska) – The Alaska Department of Transportation & Public Facilities' Aviation Program has been honored with the highly coveted "Most Innovative State Program Award" by the National Association of State Aviation Officials (NASAO). This esteemed recognition highlights Alaska's remarkable achievements and groundbreaking initiatives in the field of aviation.
NASAO, a leading national organization dedicated to advancing aviation in the United States, bestowed this award upon Alaska's Aviation Program in recognition of its exceptional contributions to aviation innovation. The award underscores Alaska's unwavering commitment to pushing the boundaries of excellence in aviation, particularly in the areas of safety, technology, and operational efficiency.
Alaska, known for its vast landscapes and challenging weather conditions, has been a pioneer in the aviation industry for decades. The state's Aviation Program has continually strived to enhance safety, reduce environmental impacts, and improve the overall experience of aviation within its borders. These efforts have had a significant impact on the state's aviation community and the flying public.
The award was received for work done by Alaska's Avalanche Program, in which Ryan Marlow and Tim Glasset worked with partners such as the Federal Aviation Administration (FAA) to integrate Unmanned Aerial Systems (UAS) into the program, enhancing safety and hitting national milestones such as receiving approval to carry concussive devices onboard UAS platforms, a fully autonomous self-recharging UAS platform that can be deployed and controlled from anywhere in the state, and using UAS imagery to create accurate snow-depth modeling.
Deputy Commissioner Katherine Keith expressed gratitude for the recognition and emphasized Alaska's ongoing commitment to advancing aviation in the state. "It's a privilege for Alaska to receive the Most Innovative State Program Award from NASAO. This award underscores our team's commitment to modernizing our transportation system," said Deputy Commissioner Keith. "By harnessing technology and forging strong partnerships, we're enhancing aviation safety, efficiency, and sustainability throughout Alaska, which in turn propels advancements in aviation nationwide."
This prestigious NASAO award reinforces Alaska's reputation as a leader in aviation innovation. The state's Aviation Program will continue its mission to ensure safe and efficient aviation operations while pioneering new approaches to address the unique challenges of Alaska's aviation landscape.
The Alaska Department of Transportation and Public Facilities oversees 237 airports, 9 ferries serving 35 communities along 3,500 marine miles, over 5,600 miles of highway and 839 public facilities throughout the state of Alaska. The mission of the department is to "Keep Alaska Moving through service and infrastructure."
# # #