FOR IMMEDIATE RELEASE: October 2, 2023
Press Release: 23-0030
Alaska's Pedestrian Crashes are 100% Preventable
Governor Mike Dunleavy declares October Pedestrian Safety Month.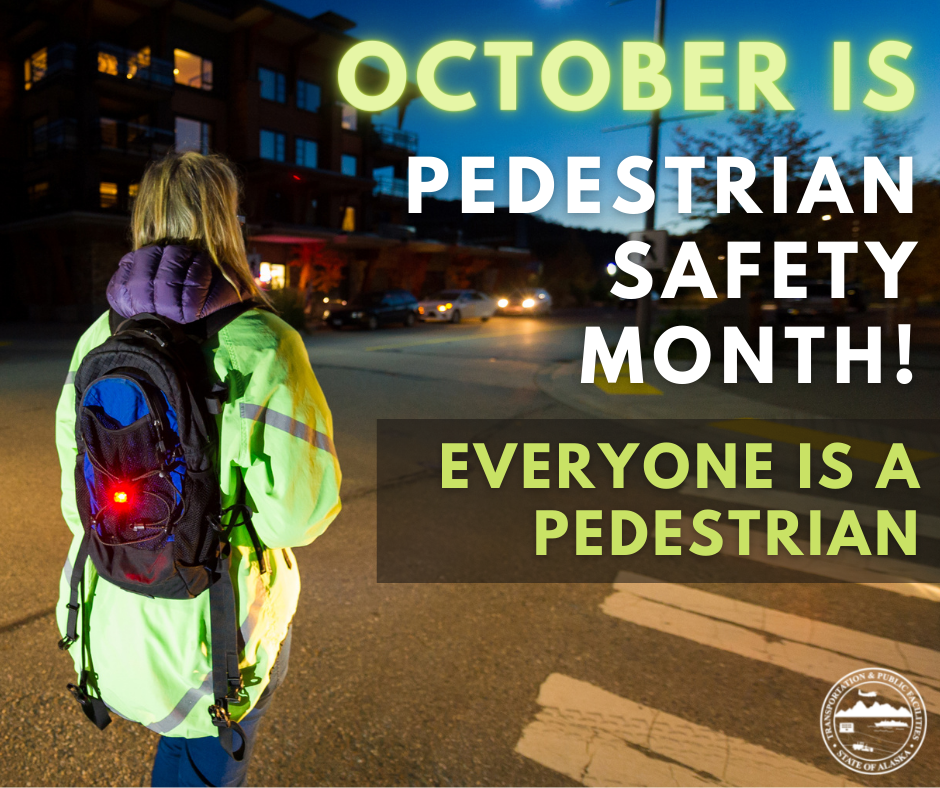 (ANCHORAGE, Alaska) – "Pedestrian crashes are 100 percent preventable," said DOT&PF Commissioner Ryan Anderson. "We need to drive these crashes to zero by working together." Alaska's preliminary data shows that 13 pedestrians were killed in 2022 and 11 pedestrians have been killed in collisions with vehicles in 2023. As a result, Governor Mike Dunleavy proclaimed October 2023 Pedestrian Safety Month to highlight the need to improve safety for pedestrians in Alaska.
Alaska DOT&PF reminds motorists to be vigilant when driving in dark and low-light conditions. Pedestrians can be present anywhere, even outside of sidewalks, shoulders and crosswalks. Being aware, eliminating distractions, moderating speeds, and driving sober are all important steps in eliminating crashes. It's highly recommended for pedestrians to wear reflective or high-visible clothing during low-light hours, and use established crossings whenever possible.
According to the Governor's Highway Safety Association, a national nonprofit representing state and territorial highway safety offices, pedestrian fatalities in the United States continued an upward trend, with an estimated 7,500 pedestrians killed nationwide in 2022.
"Alaska DOT&PF is working on new ways to tackle pedestrian safety—we are taking a multidisciplinary approach that acknowledges that deaths and serious injuries are unacceptable, safety is proactive and that redundancy is crucial," said Commissioner Ryan Anderson. "We are working on partnerships with law enforcement, EMS, and providing education, and working toward long-term engineering solutions to drive down this fatal rate."
While engineering solutions take time to develop, DOT&PF is also pursuing maintenance changes to enhance winter pedestrian safety including maintenance related issues such as winter sidewalk clearing, winter sidewalk priorities, and extreme weather event planning.
Governor Mike Dunleavy's proclamation is posted here. More information on Alaska's Strategic Highway Plan can be found here.
The Alaska Department of Transportation and Public Facilities oversees 237 airports, 9 ferries serving 35 communities along 3,500 marine miles, over 5,600 miles of highway and 839 public facilities throughout the state of Alaska. The mission of the department is to "Keep Alaska Moving through service and infrastructure."
# # #