FOR IMMEDIATE RELEASE: August 7, 2023
Press Release: 23-0026
Alaska DOT&PF honors Purple Heart Recipients With Longest Purple Heart Trail in Nation
Newly unveiled route extends to Homer and Marine Highway.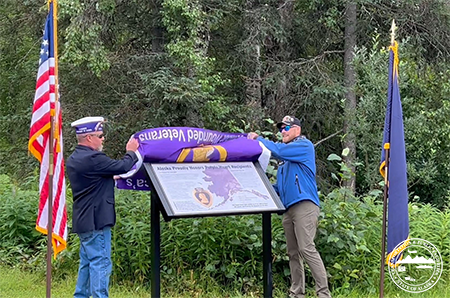 Former Alaska Commander of the Military Order of the Purple Heart John Knott and former Alaska State Senator Josh Revak unveil a new Purple Heart Trail information kiosk at the Veteran's Memorial on the Parks Highway, August 7, 2023. (Alaska DOT&PF).
(Fairbanks, Alaska) – The Alaska Department of Transportation and Public Facilities (DOT&PF) celebrated Purple Heart Day, August 7, with the unveiling of a newly extended Purple Heart Trail in a ceremony at the Veteran's Memorial at mile 147 Parks Highway.
John Knott, former Alaska Commander of the Military Order of the Purple Heart and other members of the Order were on hand for the unveiling along with DOT&PF Northern Region Director Joe Kemp, former Alaska State Senator Josh Revak, who is a Purple Heart recipient himself, and Denali Borough Mayor Clay Walker.
First established in 2008 along the Alaska Highway from the Canadian Border to Fairbanks, the Purple Heart Trail honors and remembers current and former service members of the U.S. Armed Forces who were wounded or killed in combat.
The Purple Heart Trail is now extended from Fairbanks south to Homer along the Parks, Seward, and Sterling Highways and also includes all Alaska Marine Highway System (AMHS) routes. At nearly 900 road miles and 3,600 marine Highway miles, it is the longest Purple Heart Trail in the U.S. among the 45 states that participate.
Revak, who introduced the legislation extending the Trail, said "it couldn't mean more to me" and was the "most impactful" piece of Legislation he passed, and that it "hopefully instills conversations as people travel our highways about something bigger."
Kemp, who was part of the team that installed signs marking the trail in 2008, said it was "an honor to be a part of the project and DOT&PF was proud to make it happen." Kemp also presented souvenir copies of the Purple Heart Trail road signs to Knott and the Military Order of the Purple Heart and to Senator Revak.
The Alaska Department of Transportation and Public Facilities oversees 237 airports, 9 ferries serving 35 communities along 3,500 marine miles, over 5,600 miles of highway and 839 public facilities throughout the state of Alaska. The mission of the department is to "Keep Alaska Moving through service and infrastructure."
# # #