FOR IMMEDIATE RELEASE: June 16, 2023
Press Release: 23-0020
Dalton Highway closures at Koyukuk River Bridge for emergency repairs
Damaged bridge will be closed from 9 p.m. to 9 a.m. daily for two weeks starting June 21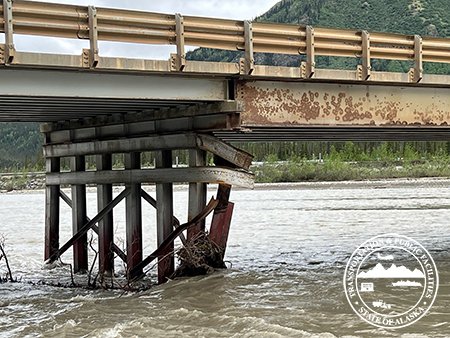 (Fairbanks, Alaska) – The Dalton Highway will close nightly to all traffic across the Koyukuk River bridge (MP 188.5) for 12 hours from 9 p.m. to 9 a.m. for emergency repairs to several girders as well as one pier. The closures will begin the evening of Wednesday, June 21 and are expected to continue for approximately two weeks.
Traffic is currently reduced to one lane only to place traffic over the southbound lanes, eliminating travel over the damaged section. Traffic will be allowed to cross the bridge during the day.
The bridge is located between the communities of Coldfoot and Wiseman. Bent girders and supports were discovered by a Wiseman resident and reported to Alaska Dept. of Transportation & Public Facilities (DOT&PF). Alaska DOT&PF believes the damage occurred over the winter from ice and debris moving downstream on the Koyukuk River. Bridge engineers did not report any damage during a July 2022 inspection.
The Alaska Department of Transportation and Public Facilities oversees 237 airports, 9 ferries serving 35 communities along 3,500 marine miles, over 5,600 miles of highway and 839 public facilities throughout the state of Alaska. The mission of the department is to "Keep Alaska Moving through service and infrastructure."
# # #